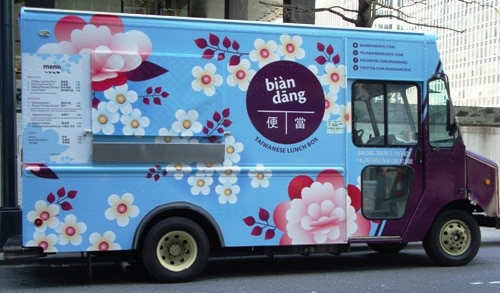 As I've said before, we're always on the lookout for daily specials and new menu items.  One that recently caught our eye was beef stew from Bian Dang.  This got our attention because Bian Dang is a Taiwanese food truck, and you don't usually think of beef stew and Taiwanese food in the same sentence.
Recently when it was rainy and chilly, we ordered Bian Dang's beef stew for lunch, which cost $9.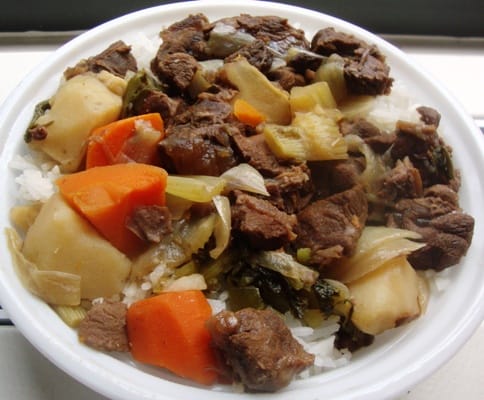 The first thing that caught our attention was Diana, a Taiwanese-American woman, wearing a Celebrate Israel t-shirt.  (They must have been serving at the Israel Day Parade last weekend).  Add to that the fact that she's serving beef stew, a dish often associated with Ireland, and you have a genuine New York melting pot moment.  You can see why I love this city!
This stew had some similarities to Irish beef stew such as large pieces of carrots, celery, potatoes and chunks of tender beef.
Bian Dang also put their own spin on this dish a few ways.  They seasoned the beef with a fragrant five-spice powder, added their patented mustard greens, and served the stew over white rice instead of noodles.  The spices on the beef really lightened up the dish, as did the omission of gravy.  Between the two, this wasn't an overly heavy lunch, as I expected it to be.
Bian Dang makes the rounds of various neighborhoods, so check their twitter here or our Mobile Munchies twitter feed with lots of other food trucks.  If you're not in the mood for beef stew, their Taiwanese fried chicken is one of the tastiest fried chicken dishes around.