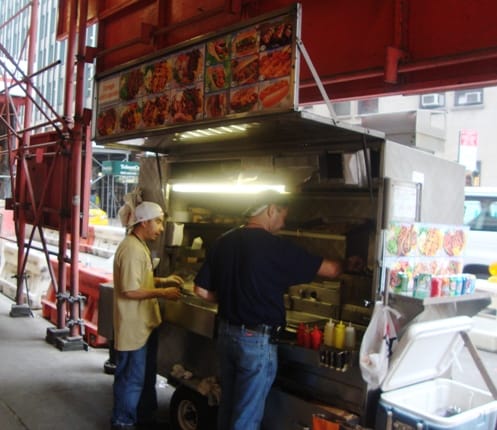 Is the Steak Sandwich Sauce important to you as it is to me? Well, when I'm busy and don't have time for a regular lunch, I often go to Carnegie John's, who is located only 2 blocks from my office. Carnegie John's cart has been right behind Carnegie Hall, on 56th St & 7th Ave, for over 10 years, and he has a loyal following.
John is an old-school Greek vendor who takes pride in what he serves, with quality being important to him. We think he has one of the best chicken over rice dishes in the city, but on this visit, we went with the ribeye steak sandwich for $6.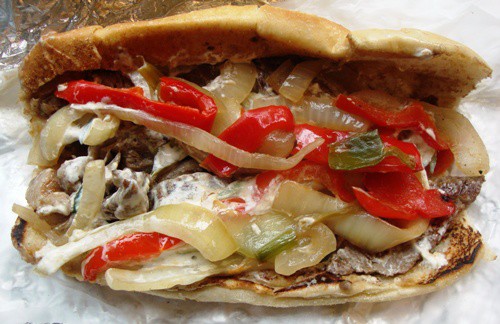 You can get any sandwich or platter at Carnegie John's with bbq sauce, ketchup or white sauce. We always get the white sauce as our Steak Sandwich Sauce, because John's is authentic Greek tzaziki sauce, made with real yogurt, cucumbers and herbs. Most of the white sauces at street carts are made with mayo, so this definitely make him stand out.
We also get hot sauce, but John's is one of the milder hot sauces around, so don't expect fireworks. It just adds a little bit of tingle.
As for the meat, John grills the rib-eye steak on the flat-top grill, then moves it to the charcoal grill for more flavor, then transfers it back to the flat-top grill to be cut up and grilled a little more.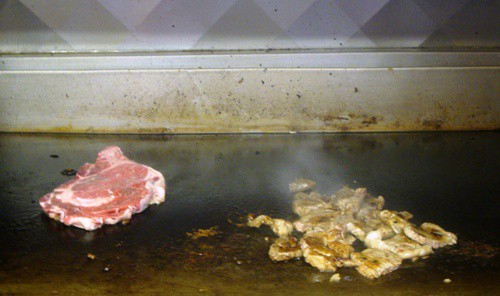 You can also get grilled onions and bell peppers, which we highly recommend. This sandwich was bursting with large, sweet, grilled onions and peppers, more than enough to put the sausage & pepper vendors you see at local street fairs to shame.
The baguette was nicely toasted on the grill too. Overall, a good, tasty sandwich.
As I said, Carnegie John is old school. He doesn't tweet or have a website, but he's been in the same spot on 56th St & 7th Ave every weekday for over a decade. That points to two things John offers New York lunchers, quality and consistency.