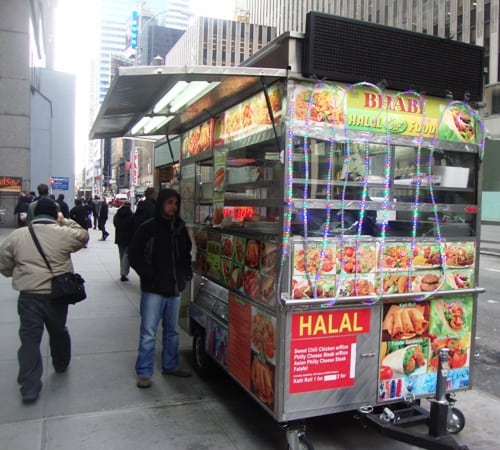 Feel like Kati Roll? Well, getting out of the subway at the south end of the Rockefeller Center station, 47th St between 6th & 7th Ave, can be a street food wasteland. But not any more.
In 2010, the Kosher Oasis cart tried to take advantage of its proximity to the Diamond District, with an interesting cart design that caught the eye Their food was decent, but unfortunately the cart didn't last long.
In October 2012, the Manos Peruanos cart started serving tasty Peruvian food on that block. We've only been there once, but definitely plan on going back for more.
There is always a generic halal cart on 47th St west of 6th Ave, but we recently noticed the Bhabi cart. Bhabi has a similar menu to Biryani Cart, one block south.
It's been a while since we've had kati rolls, so we ordered one chicken tikka and one chicken with sweet chili sauce. Two kati rolls cost $6.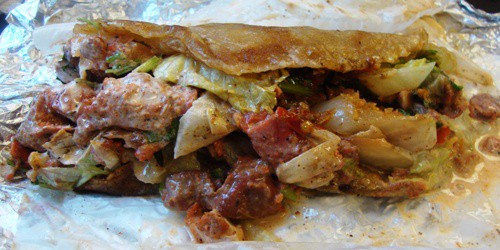 Bhabi continues the trend we wrote about last summer of Indian-style food carts encroaching on traditional halal cart territory. We've noticed Tariq's #1 Halal Food, Indian Tasty Halal Food, My Biryani and now Bhabi.
BTW, we call these vendors Indian-style food carts because some of the vendors are from Pakistan, Bangladesh, and other countries besides India. We use Indian-style as shorthand for dishes like biryani, kati rolls, chicken tikka, chicken curry, etc.
This doesn't even include Biryani Cart, who won the People's Choice at the Vendy Awards two years running (2009 & 2010), and are the gold standard of Indian-style street carts.
The first thing we noticed that was a little different was she put white sauce on the chapati bread before putting it on the grill. Haven't seen that before.
Chicken tikka and onions were on another part of the grill. After a few minutes, she put lettuce on the bread, then the chicken and onions, then sauces. White and hot sauces were put on both, and sweet chili sauce was put on one of the two kati rolls. A generous helping of chopped, fresh cilantro was added to each roll.
Other than the addition of the chili sauce, the rolls were exactly the same. Everything was wrapped up tight, and we headed back to the office.
Unwrapping lunch, the kati rolls were jam-packed with food. Good thing she included a fork in the bag, because it was needed to keep my clothes clean for the rest of the day. Even sitting at a desk, it was a little tough to eat neatly.
The chicken tikka kati roll was creamy and spicy, from the white sauce and the hot sauce. We don't usually get white sauce on kati rolls, but it was our first time at this cart, and we went with her suggestion.
The white sauce did add creaminess to our usual kati roll experience. The fresh cilantro and grilled onions were also nice, picking up the flavor.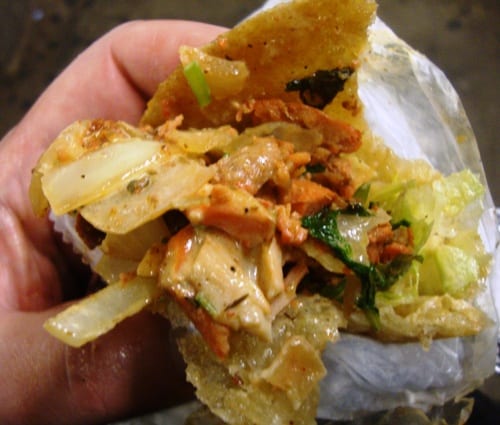 The 2nd kati roll with sweet chili sauce was good if you like tanginess in your kati roll. We do, and enjoyed it even more than the 1st kati roll. It didn't add any extra heat, but did add a sweet and tangy sauce.
As for the chapati bread, it was a little chewy, but did hold in all the fillings. Not an easy task.
Bhabi Halal Food won't set the New York street food scene on fire, but the food was solid, and the prices were easy on the wallet. The spices and sauces weren't as refined as Biryani Cart, but the portions were definitely larger.
You can find Bhabi Halal Food on 47th St, just west of 6th Ave. They don't have a website or twitter, but you can find them there ever weekday for lunch, with some of the more filling kati rolls around.
You can see their full menu here and here.