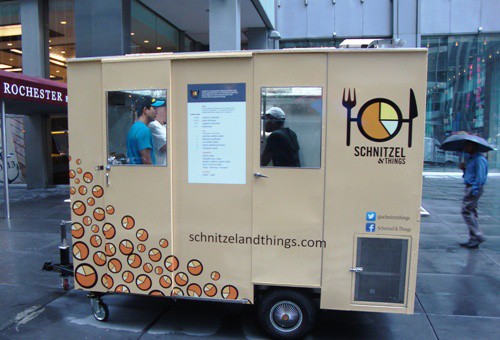 It was a crappy, rainy day yesterday, and were thinking about a follow-up visit to the Thai Cart With No Name. But as we got to 52nd St & 6th Ave, a familiar design came into focus across the street.
It was the new Schnitzel & Things cart we recently told you about, right across 52nd St. We haven't had a golden fried schnitzel in a while, so what better time to check out the new cart than a rainy day with no line.
To make sure everything was working smoothly on the new cart, Oleg himself was manning the window. (That's because Hannah probably won't let him near the truck anymore. It may have started out as Oleg's, but it's her baby now!)
We went for Schnitzel & Things's pork schnitzel platter for $10, which comes with a dipping sauce and 2 sides.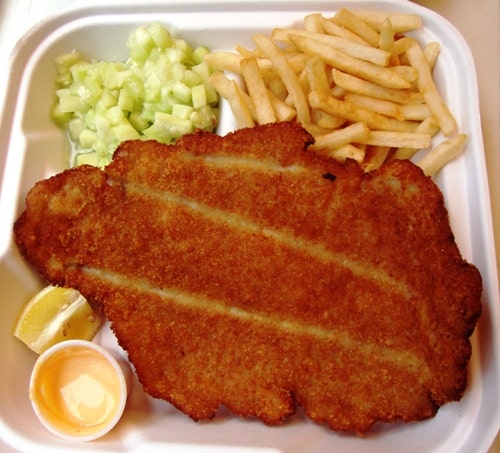 Anyone who thinks a food cart is easier than a food truck is right, but a cart is no bargain either. The halal carts feel threatened by food carts too, and call the cops on any new vendor.
Oleg told us that Wednesday, a halal cart vendor called the police on him in FiDi, and he ended up with a $1,000 ticket for being parked in a restriced zone. That's certainly gonna put a dent in the cart's first month profits.
Oleg said today (Thurs) the halal cart on 52nd & 6th threatened him and then called the police, but he was parked legally and they left without incident. It's tough out there on the street!
Since the cart is smaller than the Schnitzel & Things truck, the menu is also a little smaller by necessity. There's just not as much room in the cart for supplies and equipment.
We love the beet and feta salad, but that one is only available on the truck. Same with with the schnitz burger and cod schnitzel. Other than that, most of the menu items seemed the same.
The pork schnitzel of Schnitzel & Things was a thinly pounded cutlet that was about 10″ long that had to be folded over to fit in the container.
There were grill marks on the cutlet, which made us think the schnitzel was not fried right there on the spot, but was deep fried earlier and re-heated on a grill. We were so busy catching up with Oleg, who we haven't seen in a while, that we did not watch the cooking process. But it did not seem (or taste) as if the cutlet had just been deep-fried.
The fries were thin and cooked to about medium. They were neither crispy nor soggy, but a good middle ground.
The cucumber salad is refreshing, but it could use a little more bite. At home we put raw onions into our cucumber salad, and use a mixture of vinegar and sugar for the base. This base had no bite at all, and seemed to be oil-based instead of vinegar-based.
Those with long memories will remember that the S&T truck was the first food truck we ever went to. They kicked off our long journey through the street food world over the past (nearly) 4 years.
That's why it pains us to say the cart's schnitzel was not as good as the truck's. This was a good schnitzel, but the truck serves an excellent schnitzel.
Being in this business for several years, we cannot go back to the Schnitzel & Things cart without being recognized, so we need our readers to step up to the plate. If you go to the new S&T cart, please let us know in the comments how your schnitzel was, and if it was fried on the spot. Hopefully we're off base on this one.
You can find both the S&T truck and new S&T cart on twitter here or on our Mobile Munchies twitter feed.