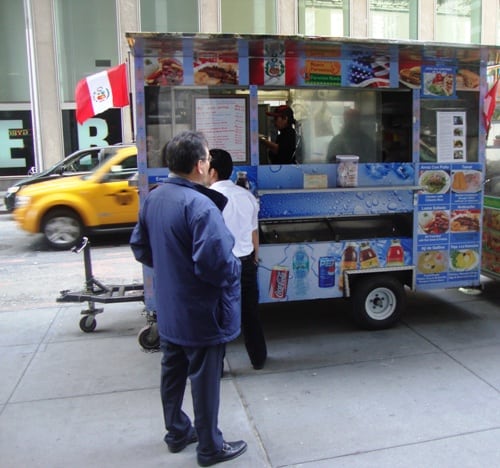 Ever had a Fish Escabeche? Well, we've become big fans of Peruvian food in the past year or so. We didn't know anything about Peruvian cuisine until Morocho popped up on Union Square West last year.
A few months later, Manos Peruanos appeared on 47th St between 6th & 7th Ave. Between the two, we've gotten a crash course in Peruvian food.
As we often say, keep an eye out for Daily Specials, which usually make good use of fresh and seasonal ingredients. Sometimes that means fish, one of our favorite foods to eat.
Manos Peruanos had escabeche de pescado as yesterday's Especial de Hoy, and it cost $10. No worries if you don't know Spanish. Just about everything on the menu was shown in both Spanish and English.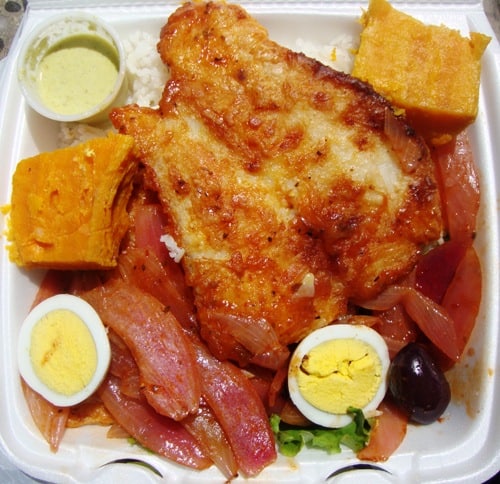 Another thing we often say is get there early for specials. We got there at 1:10 and received the last fish special of the day. While we were waiting for our lunch, someone else ordered fish escabeche, and she had to tell the customer there were no more orders left.
Fish escabeche is lightly breaded fish, and in this case it was sauteed. The fish was not heavily spiced, nor did it have a very strong fish taste. It was basically lightly breaded mild fish, period.
We really enjoy the side dishes in Peruvian cuisine too. Here they included hard boiled eggs and sweet potatoes, two of our favorite foods. There was also a black olive, which we are starting to acquire a taste for.
One of the surprises in this lunch was the red onions. We've always considered red onions to be a condiment rather than a side dish, but at Manos Peruanos they were pickled, sliced into wide strips, and delicious!
There was also a second surprise in this lunch that we didn't see at first. Under the fish fillet and red onions was…another fish fillet. The 2nd fish fillet made this a very filling lunch, along with the sweet potatoes, eggs and white rice. It also made this a good deal.
Manos Peruanos aren't that new anymore, and they have really raised their game since that first arroz con pollo we had last October. That was pretty good, but this was excellent. Definitely one of our favorite lunches of 2013.
We cannot find any social media for Menos Peruanos, but the are located on 47th St between 6th & 7th Ave every weekday for lunch.  Check 'em out. You'll probably enjoy it…even the grilled skewered veal heart.