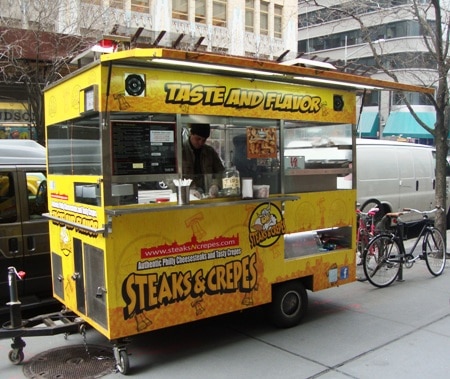 Feel like cheesesteak with whiz? Well, we took a vacation day earlier this week, which means getting lunch from one of the street food vendors by Hudson & King, a short walk from our home.
Our First Look at Steak & Crepes was good, so we decided to go back for a second look.
We wanted to try a Lunch Combo with an Everything Cheesesteak, fries and a drink for $10. That's a pretty good deal.
We also got a request from our wife for a crepe of dulce de leche and banana.
How does that song go? You Can't Always Get What You Want.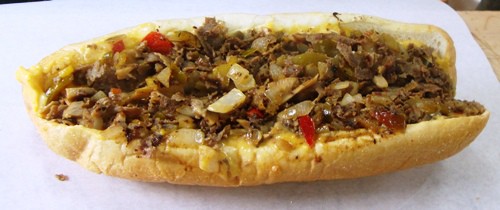 There was a small handwritten sign saying crepes are not served until after 3pm. We asked what time they will be there until? They said 2:30. Huh?
It turned out they don't serve crepes for lunch. They only serve crepes during dinner service.
Oh well. At least the cart was parked in front of Jacques Torres. We were able to get a couple of killer chocolate chip cookies to bring home.
The other problem was the deep fryer was out of order. That meant no fries for a combo platter 🙁
Once we got to the cheesesteak with whiz, things improved a lot.
There were plenty of mushrooms and grilled onions. The mushrooms and onions were both soft, but the onions still had a little crunch to them, which was nice.
The hot peppers were very spicy, nearly overpowering the other flavors, but not quite.
What helped redeem the spiciness was the taste of Cheez Whiz, which came through loud and clear. This was much different than our First Look, when the sharp provolone was barely detectable.
One word of caution. The Everything Cheesesteak usually comes with tomato sauce, but we're not big fans of tomato sauce on cheesesteak, so we asked for no tomato sauce. If we want tomato sauce, we'll get pizza.
They use Amoroso's rolls at Steak & Crepes, which is an authentic Philly cheesesteak roll. It got kind of soggy on the bottom from all the meat and fixin's, but still held together ok.
We almost forgot to mention the meat, which was thinly shaved and tasted quite good. It grilled up well, with a little crispiness around some of the edges. The meat seemed to be of decent quality, which is what probably accounted for most of the $9.75 price. This was a full-sized 10″ hero stuffed with meat.
Steak & Crepes is a good place to get a cheesesteak with whiz, but we can't comment on the crepes or fries.
The cart moves around like a food truck, in a different location each day, and often serving lunch and dinner in different neighborhoods. Your best bet is to find Steak & Crepes on twitter here or on our Mobile Munchies twitter feed. You can look here for the menu.