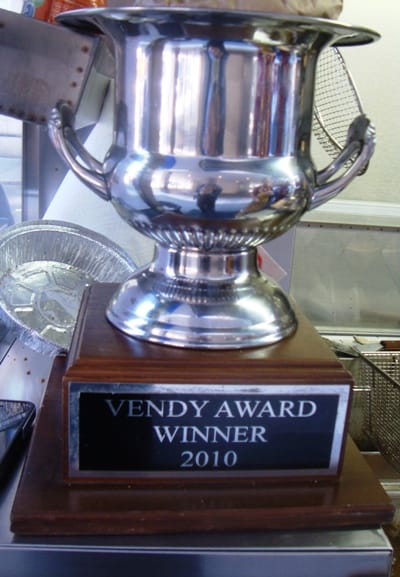 There was BIG news last week in the New York street food world.  Fares "Freddy" Zeidaies, the King of Falafel & Shawarma, who won both the Vendy Cup and the People's Choice Award in 2010, opened a new, 2nd falafel cart in Manhattan.
We stopped by the cart opening day for a combo platter, but had to go back a few days later to try one of his signature dishes – a falafel platter.
One of the reasons Freddy's the King is because he knows how to treat his customers well.  The line was pretty long, but Freddy had an assistant go to the end of the line every 10 minutes or so to hand out free falafel to everyone waiting.  Nice touch!
The falafel were nice and crispy on the outside.  Inside, not only were the falafel soft and moist, but they were actually fluffy.  There was also a small kick of spiciness in the falafel.
This is a king who shares the wealth with his subjects.  In other words, his prices are excellent.  I got a falafel platter for $6, and a falafel sandwich is $4.  You can see the new cart's menu here.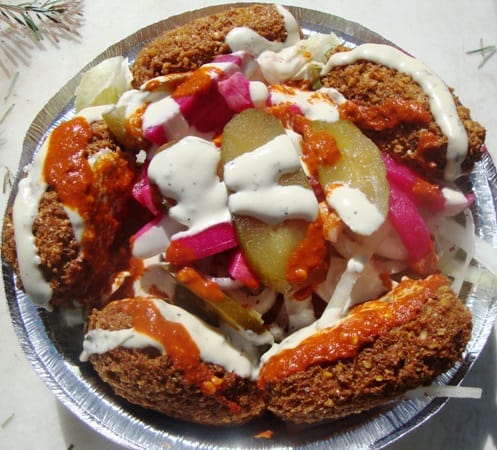 The platter had 5 big pieces of falafel, plus lots of other stuff.  There were pickles, onions, lettuce, tomato and pickled turnips, which are the purple strips in the photo.
You can choose from 3 sauces, or do what I did and get them all.  There's a white sauce, a sesame tahini sauce, and a hot sauce.
Earlier this week Freddy tweeted about his first Yelp review, where the person said the hot sauce wasn't really that hot.  Freddy took that as a challenge, and really kicked up the heat on his hot sauce.  Just how I like it!
This was an excellent lunch at a great price.  Not only is it one of the best falafels around, but you won't find a nicer vendor on the the street than Freddy.  He clearly loves what he's doing.
The King of Falafel & Shawarma is on the NW corner of 53rd St & Park Ave from 11am-3pm.  Expect a line when you go, but if it's long, maybe you'll get a free falafel while you're waiting.
You can follow the King on twitter here, but he doesn't change locations, so it's used more for posting photos and reviews.