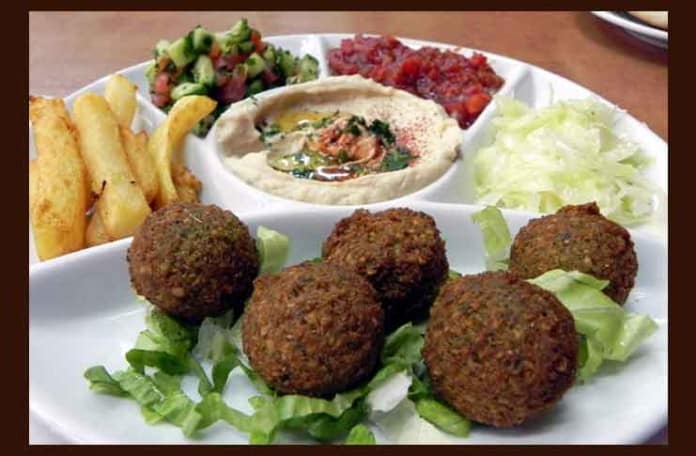 We had a detailed review of Taïm Mobile about a month ago during their soft opening, but I wanted to see how they were doing dealing with the crushing environs of midtown.
Today's Lunch is a falafel sandwich ($5.75) and fries ($3) from Taïm Mobile.
It was pretty cold out, but there was still a line of a dozen people and a few others waiting for their orders.  All in all, it took about 15 minutes from getting on line to getting my food, which is about the max I want to wait on line for lunch.  I also wanted to try their ginger carrot soup, but it was all gone by the time I ordered lunch (around 1:15).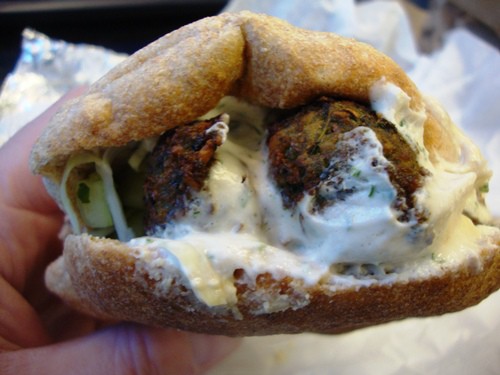 Back at the office I took the falafel sandwich out, and it was significantly heavier than falafel sandwiches I've had from other vendors.  That was because in addition to falafel, cabbage, cucumbers and tomatoes, they put a nice amount of hummus into the sandwich.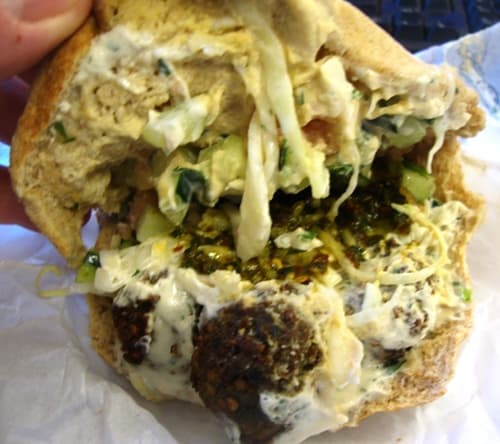 There were 4 or 5 medium-sized falafel balls, and this time I remembered to ask for hot sauce.  I opened up the sandwich and put the green hot sauce on the sandwich.  It was quite different from the red hot sauce you usually see with street food, and it was quite herb-y and added a nice zing to the sandwich, as well as even more flavor. The hummus also added a lot of creaminess.  This was a great falafel sandwich!
The fries were excellent too.  They were well done, salted just right, and served with a saffron aioli dipping sauce.  The sauce was pretty good, but these fries were tasty by themselves too – and the portion was large.
Today's Lunch gets a 9 out of 10.  At $5.75, the falafel sandwich is priced higher than at most other falafel places, but with the high quality of the ingredients, and the addition of hummus, this falafel sandwich was one of the tastiest and most filling falafel sandwiches around.
And when I got to the bottom of the sandwich, there was still plenty of falafel and hummus in my last two bites!
You can follow Taïm Mobile on twitter here, although they are also in our Mobile Munchies twitter feed.