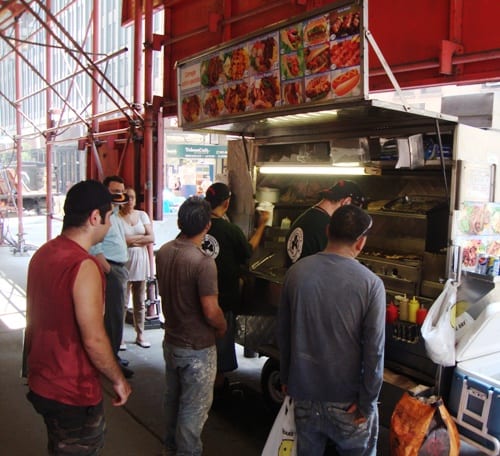 We've been away on holiday for a week, and needed to get lunch near the office. One of our favorites in Midtown North West is Carnegie John's, who has parked his cart behind Carnegie Hall for over a dozen years.
Looking at the menu, we noticed that Carnegie John has 2 different Combo Platters. He told me Combo Platter I has kebabs and Combo Platter II has chicken and gyro meat. Not sure how kebabs qualifies as a Combo Platter, but maybe he forgot to mention steak or sausage. We'll have to go back to find out.
Both Combo Platters cost $8, and we ordered Combo Platter II.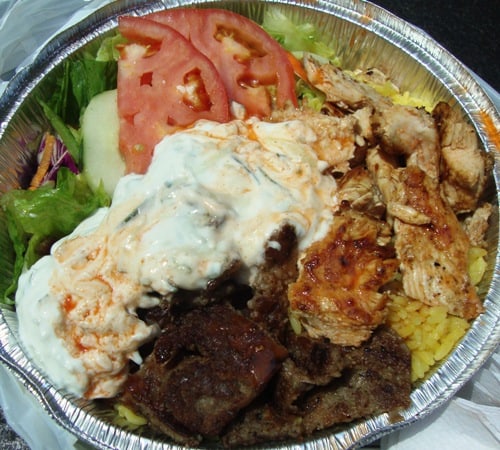 We're not usually crazy about gyro meat, but John crisps it up on the grill. That gives it some crispy char-grilled taste to go along with the usual gyro meat flavor.
We've said it before and we'll say it again, Carnegie John has some of the best chicken in midtown. The chicken is all white breast meat, and it's seasoned with paprika, pepper and likely a few other spices.
John grills it so the meat has a definite grilled flavor, but it's still moist. No dry chicken in this lunch.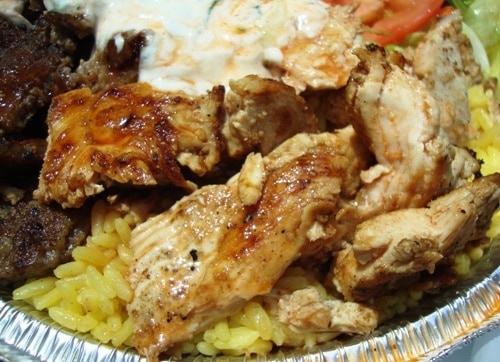 The yellow rice is fine, and his white sauce is among the best around too. It's yogurt, not mayo-based, making it thicker and richer than most white sauces on the street. Only a few other street vendors use yogurt in their white sauce. (Uncle Gussy's, Souvlaki GR and Kwik Meal come to mind, but there may be a few others.)
Even the salad is a cut above his competitors. There's fresh lettuce, tomato, cucumber, carrots and radicchio. But John also adds an Italian dressing instead of just squirting white sauce on the salad, like most other carts do.
If you're reading about Carnegie John for the 1st time, he doesn't have a twitter or facebook account, but can be found every weekday right behind Carnegie Hall, on 56th St, just east of 7th Ave.
There's usually a crowd of people around the cart during lunchtime, and he recently had "Carnegie John's" t-shirts made up.
Come to think of it, we haven't tried John's kebabs yet either. That's next on the list.