Recently we've talked about halal carts that serve Indian style cuisine instead of the Middle Eastern fare you expect. The Famous Dal Wagon is not one of those.
Its beautiful Indian decor helps it stand out from most other food carts in the city, and they are a true Indian food cart. You won't get chicken over rice at the Famous Dal wagon, but you can get keema masala, puri bhajji, chicken tikka masala, and of course dal.
The Famous Dal Wagon was on 32nd St & Park Ave for a number of years, which was a difficult area for us to get to during lunch. They recently moved to the NE corner of 39th St & 6th Ave, only a block from Bryant Park. That's much more convenient for us.
If you're don't know what dal is, it's basically an Indian lentil stew, and there are many variations. If you're a vegetarian, you might be familiar with dal, but if you're not, it's worth trying.
We ordered chicken tikka masala for $7, at which point the proprietor asked if I've ever tried the puri bhajji. When I said no, he offered me one to try for free while he put together my lunch.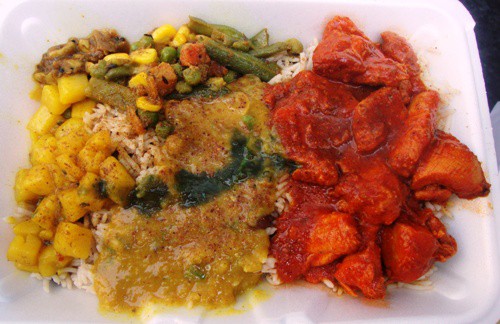 His (I assume) wife was taking small discs of dough and putting them into hot oil. They puffed up and browned in about 30 seconds. He then spooned some spiced potatoes into the bread and handed it to me.
The potatoes were quite tasty, especially with the bread base. There was only a tiny bit of heat, just enough to tickle my tongue, but it was nicely spiced. The puri bhajji was appetizer sized, with two selling for $3 and four for $5.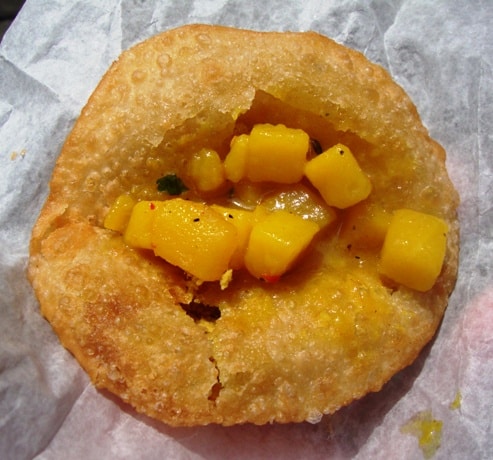 Getting back to my office and opening the container of chicken tikka masala, the first thing you notice is the smell. Indian food is usually fragrant, and this was as aromatic as any. What a wonderful aroma coming from my lunch! I hope my co-workers enjoy it as much as I do, because it will be hanging around for a while.
The chicken tikka masala had large pieces of chicken that, judging by the tenderness and the way it fell apart, had been stewed in the sauce for a while. The sauce was a little more tomatoey than I like, but that's a personal preference. It also had a nice kick in the heat department.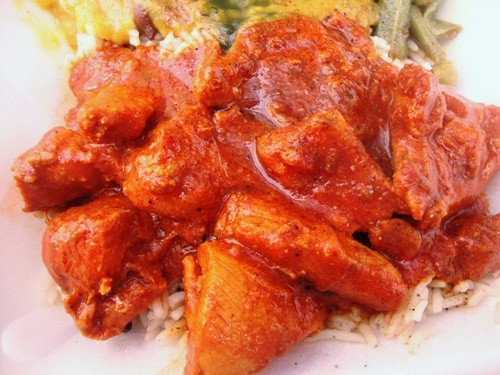 Lunch came with a few side dishes. One was a mild, herby sauce served on a section of the basmati rice. There was also a selection of veggies such as carrots, green beans, peas and corn. These had a little more heat.
On the side was also a small amount of garlic pickles, which were chopped, not whole. They had quite a strong flavor, which I would almost liken it to an Indian version of kimchi. There was also a decent amount of the spiced potatoes I had earlier on the side.
The Famous Dal Wagon does not have a website or twitter, but you can find them on the NE corner of 39th St & 6th Ave weekdays for lunch. Now that we can get there much easier for lunch, we'll have to try some of the other dishes, such as keema masala and dal.