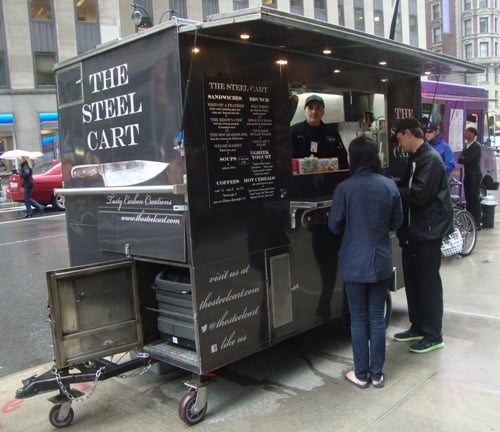 We felt like Chicken Sandwich. In our opinion, one of the best new street food vendors this year is The Steel Cart. We caught them last month down on Varick St, and now they park once a week around the corner from our office in midtown.
The Steel Cart serves mainly soups and hot sandwiches, but the combinations are interesting and the quality of the ingredients is high. Prices are not cheap, but they are not expensive either.
Walking by the cart, we saw they had a new menu item, Bird of a Feather, basically a Chicken Sandwich which we ordered for $9.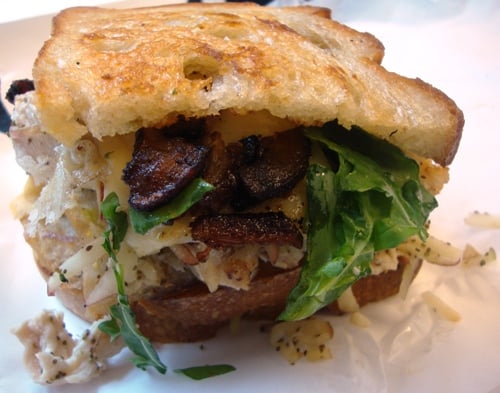 One thing these folks know how to do is present their food. After a sandwich is cooked, it's cut in half, stacked, and put into a cardboard box. When you open the box, it's like opening a gift.
There's well toasted sourdough bread with large chunks of warm, white meat chicken.
Interspersed with the chicken is an apple slaw with just a touch of mayo and celery seed.
Adding to the fun were thick pieces of bacon, Jarlsberg cheese and arugula.
Usually a whole sandwich is greater than the sum of its parts, but this one just didn't come together for us. There wasn't anything wrong, it was just kind of boring.
The chicken chunks were too large, and they kept falling out of the sandwich. Slightly smaller chunks of chicken would have been a little easier to eat.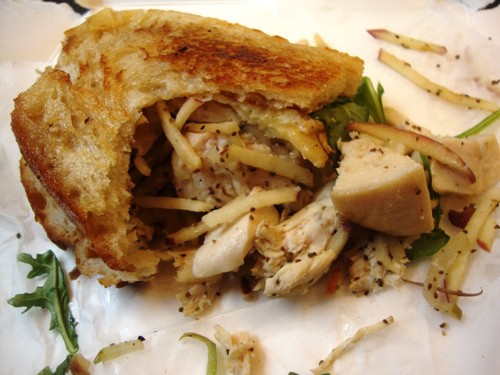 The bacon was very good, but we expected more flavor from the Jarlsberg cheese. The arugula came through the sandwich better than the Jarlsberg cheese.
As we said, there was nothing specifically bad or wrong, but the Bird of a Feather sandwich for lunch just did not make our day like the Bourgeois Pig did.
Not to worry, there are still plenty of great dishes on the menu.
You can find The Steel Cart on twitter here or on our Mobile Munchies twitter feed.
We've been hearing good things about the Egg Tosti. It might be time for brunch for lunch again soon.