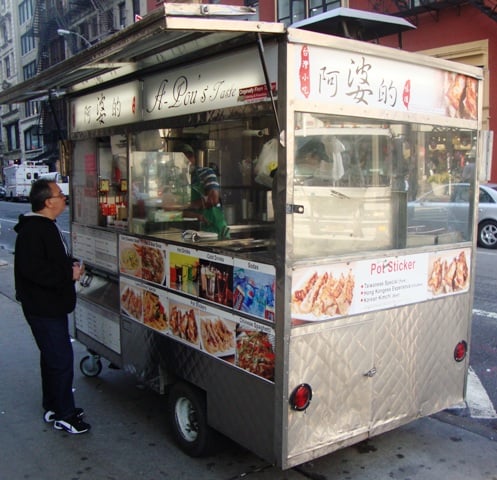 Are you into Basil Chicken? Well we are. Walking by Union Square last week, we were surprised to see A-Pou's Taste on 17th St, just west of Broadway. A-Pou's Taste were Vendy Award Finalists in 2011 in the Rookie of the Year category, but we haven't been there lately.
We were even more surprised to see a Basil Chicken special for $6. A-Pou's Taste is known for their long, skinny dumplings, of which they have 4 types (beef, pork, chicken & veggie). This is the first time we're trying anything from A-Pou's Taste that isn't a dumpling.
Not too long ago, we had basil chicken from Tuk Tuk Boy, a Thai cart, so this is a good opportunity to compare the two basil chicken dishes, which were quite different.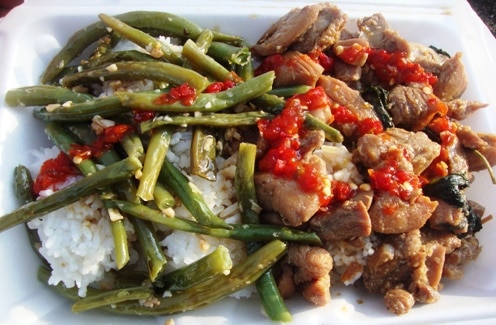 The basil chicken comes over white rice or noodles, and we went with the rice. There are also 2 sauces you can choose to have, soy sauce and hot sauce. We said yes to both.
The first thing we noticed was the presence of basil. In the Tuk Tuk Boy dish, there was barely any basil, but there was plenty here. A good first sign.
Taking a bite of the chicken, Chinese 5-spice powder was the first taste detected. This went well with the basil. We never thought of basil and 5-spice powder as a good match, but they were.
Speaking of the chicken, it was chunks of boneless dark meat, probably made from thighs. Tuk Tuk Boy had thinly-sliced white meat, which we usually prefer, but we have to say, A-Pou's chicken was more flavorful.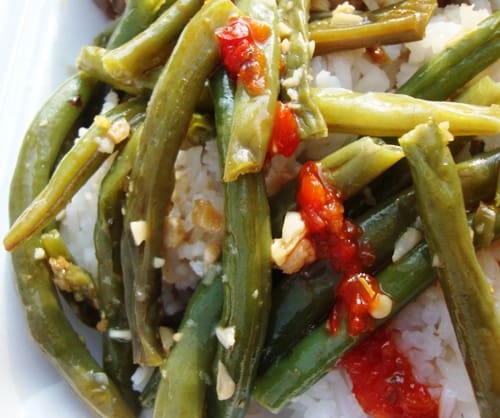 The basil chicken special also included string beans as a side dish. They weren't amazing, but they were much better than the limp side salads served at many food carts. The soy and hot sauces perked up the string beans nicely.
The hot sauce should be commended here too. It was kind of chunky, not just a smooth sauce, and it was just the right amount of heat for us. You knew the hot sauce was there, but it didn't overpower the food, it complemented it.
A-Pou's Taste is currently in 3 locations, but don't look to their Twitter account for details. The last post was November 2010!
Instead, just know that A-Pou's Taste has 3 carts: 17th & Broadway (Union Square), Liberty St & Broadway (Financial District), and Astor Place (East Village). The first 2 are definitely there for lunch, but Astor Place is more of an evening and weekend location. We're not sure if they are there for lunch.