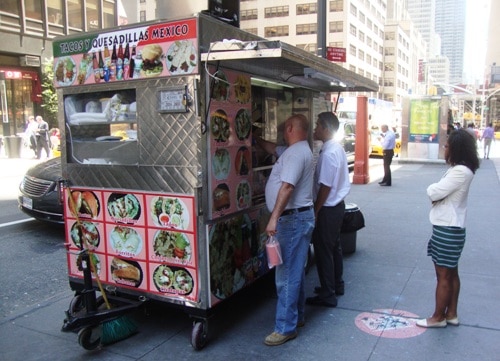 We had a 1pm conference call yesterday, which meant finding lunch within walking distance of the office rather than hopping on a train for a few stops like we usually do.
It's been a while since we've been to Tacos Y Quesadillas Mexico, who actually have 2 carts within walking distance of our office: 53rd St between Broadway & 7th Ave and 9th Ave between 59th & 60th St. The former is a little closer, so we went there.
Tacos Y Quesadillas Mexico is an old school Mexican cart, with tacos for $2.50 each. Pictured from left to right, we got bistec (beef), carne enchilada (spicy pork) and of course chorizo (sausage).
You know you're getting the real thing when you open the container and there are chopped raw onions, fresh cilantro, radish slices, limes, and they use 2 tortillas per taco.
The first taco, bistec, was ok, but the main thing we noticed was the heat. When she asked if we wanted hot sauce, we said yes, and man was this hot!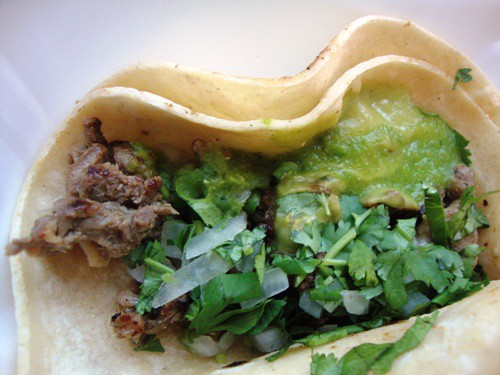 There's a regular green avocado sauce on each taco, like a smooth guacamole, and the darker green hot sauce (salsa verde) is optional. Don't get it unless you really like heat.
The beef was shredded and kind of salty. There's a salted beef menu item, but that wasn't what we ordered. Next time we'll probably pass on the bistec.
The other two were more like it.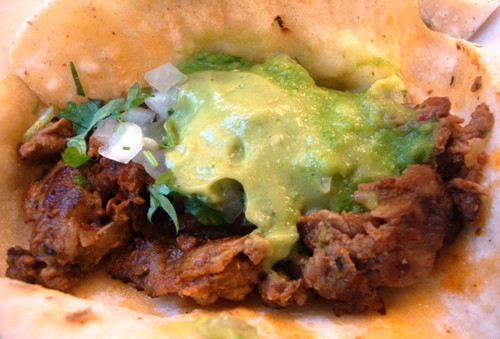 Carne enchilada is called spicy pork, but the meat itself wasn't that spicy. It was nicely grilled, with some crispy parts from grilling, and the pork was well seasoned.
Our favorite was the chorizo, which is normally the case. We love all types of sausages, and this chorizo did not disappoint.
The meat looked fatty, but there is always filler in sausage. If we didn't take the photo below, the fat wouldn't have even been noticed. We certainly didn't end up chewing the fat.
What we did end up doing was eating well grilled chorizo with a little bit of heat, and some tasty spices.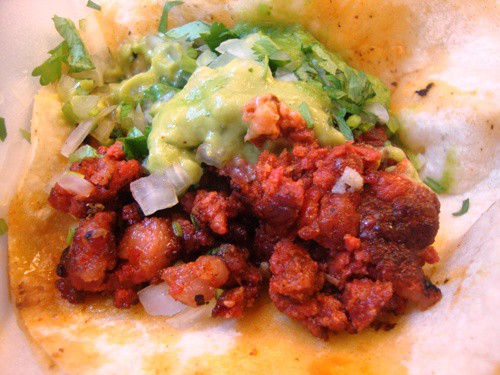 The tacos at Tacos Y Quesadillas Mexico were very similar to the tacos we had in Mexico City a number of years ago, when we went out with local people to a neighborhood restaurant. "Fusion" tacos get all the press, but these were authentic Mexcian tacos.
They don't tweet or have a website, but you can find Tacos Y Quesadillas Mexico every weekday on 53rd St between Broadway & 7th Ave, or 9th Ave between 59th & 60th St.