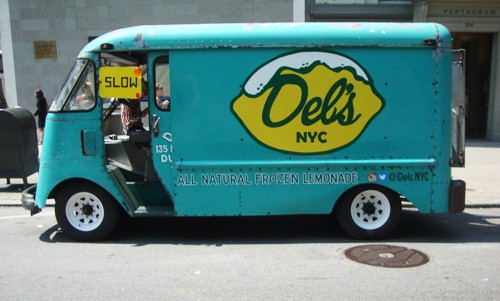 With the mercury in the thermometer inching back up, it was time to make a return visit to Del's. (It also helped that they finally parked on Broadway between 55th & 56th St yesterday, around the corner from our office.)
There was a pretty big reaction online when Del's first hit NYC, from people who knew Del's from Rhode Island, where they are obviously very popular.
With the tagline "All Natural Frozen Lemonade" and a big, frosted lemon on the side of the truck, we had to get the frozen lemonade on our first visit, Dessert Alert I.
Del's other flavor is watermelon. That's one of our favorite fruit flavors, so we were excited for the return visit.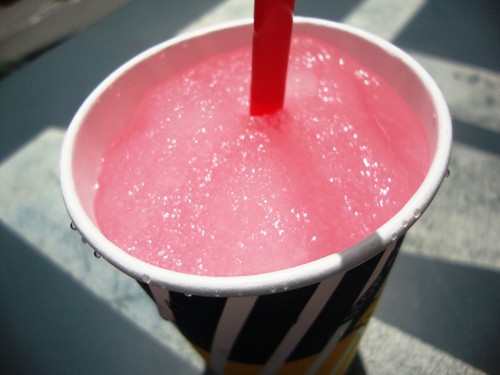 There are 3 sizes available – $3.50, $4.25 and $5.00. The small was plenty for us last time, so that's what we got again. (Plus we're cheap bastards.)
We were not disappointed. as expected, the watermelon was a little bit sweeter than the lemonade, but it was not overly sweet by any means.
If you haven't had Del's before, use the straw to sip the juice, then stir it around with the spoon on the end of the straw until there is more to drink. If you're as impatient as we are, the spoon can also be used to scoop the slushy ice. Deeelicious!
We can only imagine what this would taste like with vodka or tequila. Wow! Maybe we can do that one summer Friday, since our office closes at 2pm. We'll let you know.
You can find Del's NYC truck on twitter here or on our Mobile Munchies twitter feed.
We're sure to be stopping by again this summer.