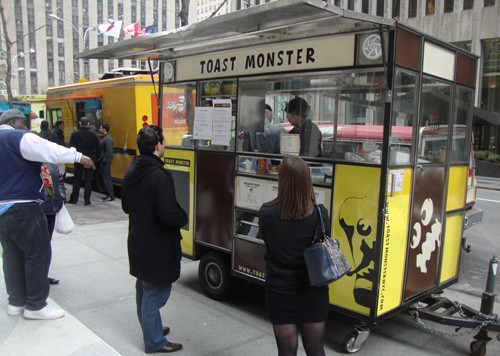 Last week we stopped by Toast Monster for a mac & cheese sandwich for lunch, but looking at their menu, we instantly decided to go back for brunch very soon. That day came sooner than even we expected. How can you pass up a Peanut Butter and Jelly Sandwich on French Toast ?  We can't, especially when it costs only $3!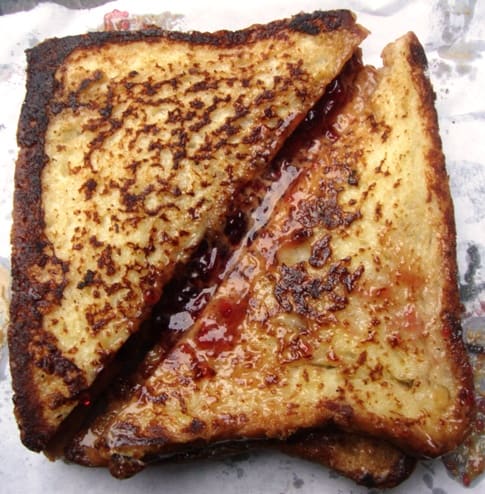 Classifying this sandwich is difficult. It can be eaten for breakfast, brunch, lunch or even dessert. We settled on calling it brunch, which is a vague appellation that can be used for almost anything. Toast Monster puts it on their breakfast menu.
Unlike the savory sandwiches on toasted bread, this comes on French toast, which is soft and eggy. They assemble it on the grill, flip it over a few times, and put it in a cute little bag with a toast monster on it.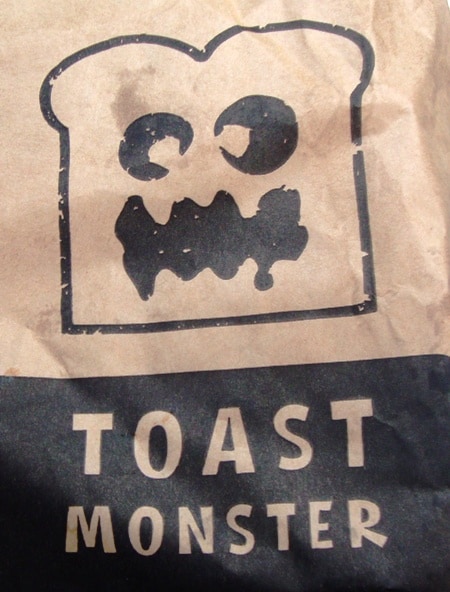 The softness of the French toast makes it a bit messy to eat once warm peanut butter & jelly are inside, but the eggy flavor works great with peanut butter and jelly.
There was plenty of peanut butter and strawberry jelly, and they both came through in the taste department.
After eating this Peanut Butter and Jelly Sandwich on French Toast, the word of the day is "decadent". And we didn't even go full tilt on this one.
You can also include coconut flakes, cookie crumbs, bananas, nutella or walnuts for $.50 each. We toyed with the idea of cookie crumbs, but they were already sold out, so we passed on the extras. That's fine, this was decadent enough without adding even more goodies.
Toast Monster parks in a few different places, so check their Twitter account or our  Mobile Munchies Twitter feed.
We always thought of Toast Monster as a lunch place, but this Peanut Butter and Jelly Sandwich on French Toast made us rethink things a bit. You can easily go there for brunch or dessert.