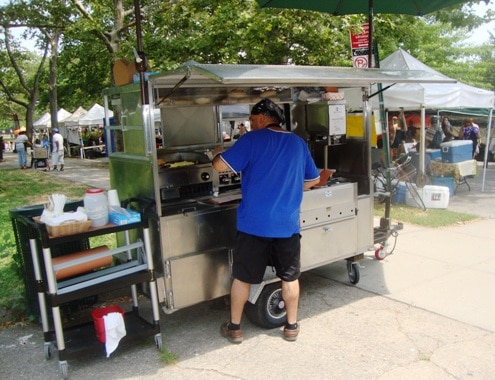 We recently heard about a new food cart opened in Williamsburg by the farm-to-table cafe Urban Rustic. The Daily Meal had a quick note about the opening, and we hopped on the L train and went out to Billyburg on Saturday to check it out.
Urban Rustic has been around nearly 5 years, and they are the epitome of the local and ethical food movement. They feature milk from small dairies, cage-free, organic and local farm eggs, and in-house roasted meats and house-baked breads and desserts.
As you know, Saturday was the hottest, most disgusting day of the year (to date), so we got out there early, around noon. Unfortunately, the cart was still serving breakfast, and the chef was expecting the lunch supplies within the next half hour.
That's fine. I hadn't eaten yet, and a high-quality bacon, egg and cheddar sandwich sounded perfect for my first meal of the day.
Being the intrepid reporter (really?), I did get information on their lunches, including a peek at the menu. After perusing the lunch menu, I definitely have to go back when the weather cools off a bit. It looked great.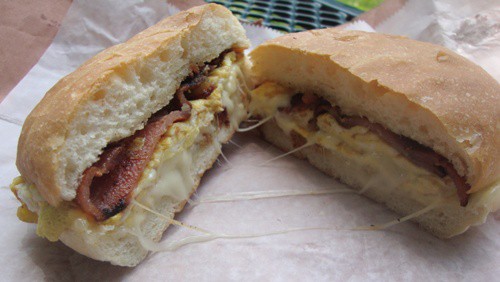 A breakfast sandwich of 2 cage-free organic eggs from Feather Ridge Farm costs $4, and it was an extra dollar each for white cheddar cheese and slab-cut bacon. For a little extra, you can also get turkey sausage from Di Paolo's, who have a stand at the Greenmarket right next to the cart.
The first thing I noticed was the softness of the roll, which is baked at the cafe. The next thing I noticed was the thick, tasty bacon. After that, the egg and cheese kicked in, making me very happy.
While $6 for a bacon, egg and cheese is a little steep, the ingredients were all-natural, high-quality, and most importantly, tasted great.
Now I can't wait to try their lunches. How do these sound?
Regular of veggie burgers with iceberg slaw, Brooklyn brine pickle, and ketchup, dijon mustard or "delta sauce". (Not quite sure what delta sauce is though.)
I've always been more of a hot dog/wurst guy than a burger guy. The Urban Rustic cart has both hot dogs and bratwurst, either of which can be gotten with ketchup, mustard or sauerkraut or "L.A. street style".
L.A. street style dogs are wrapped in thick bacon and served with pico de gallo and American cheese.  That sounds delicious on an all-beef hot dog or a bratwurst. Gonna be a tough choice between those two.
The Urban Rustic cafe is on N. 12th St between Driggs & Union St in Williamsburg, and the cart is just inside the park across the street, on the southern edge of McCarren Park. The cart is open Thurs-Sun from noon-8pm, except for Saturday, when the cart opens at 9am for the Greenmarket that's right there. In addition to breakfast sandwiches, they also serve omelettes.
 The Urban Rustic website is here and twitter is here.