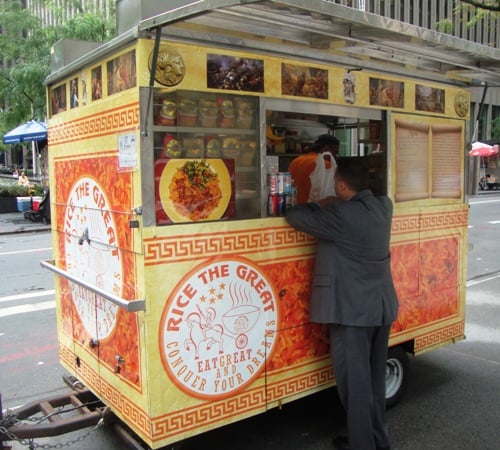 Ever had Beef Rice Pilaf? Well, we went over to Rockefeller Center for lunch recently because there's usually interesting street food along 6th Ave, anywhere from 43rd to 52nd St. Wouldn't you know it, there was a new cart we had not seen before on the west side of 50th St called Rice The Great.
The cart is done up in ancient Greek motifs, with a scroll on the front of the cart supposedly explaining how rice pilaf was invented under Alexander The Great (who was Macedonian btw). According to the story, Alexander thought it was a great dish to nourish his troops on their long journeys conquering the world.
The menu is small, with only rice pilaf and your choice of beef or chicken for $6. I guess you could get it without meat too, if you want. It also comes with a salad.
So what exactly is in Beef Rice Pilaf? It's one of those dishes where there are probably as many recipes as chefs, but click through to see what's in Rice The Great's pilaf.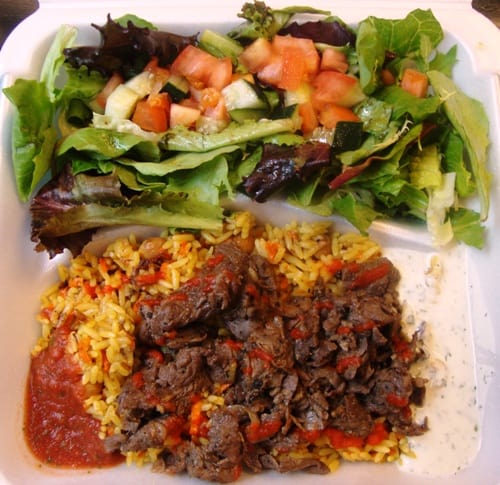 While waiting for lunch, I asked how long they have been around. He said July 30th was their 1st day, and things are going pretty well for lunch. With all the food carts closing down after lunch, they are considering staying open for dinner in this semi-touristy area.
The pilaf had a nice scent from the "secret" herbs and spices. Cinnamon, cloves and cardamom were likely in there, and the other additions were easy to spot – garbonzo beans, raisins, carrots, craisins, and probably a couple of other things we missed.
The rice pilaf had a nice taste, but it wasn't as light and fluffy as expected. It's tough keeping rice light and fluffy throughout the day in a food cart, but this did have a great flavor from the spices.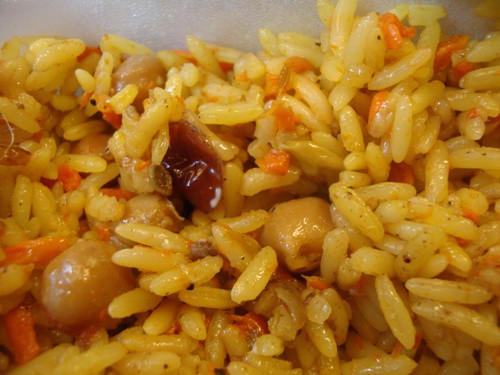 The beef looked exactly like the ribeye bulgogi served at the Korean carts in the area, but it obviously did not have a Korean marinade. The beef was decent, and I'm going to go back to try the chicken at some point.
There were two sauces that came on the side of the meal, red and white. The sauces were different from the halal carts in the area. The red sauce was almost like an herby Italian tomato sauce. The white sauce was my favorite, a tzaziki made with yogurt, possibly some mayo, and there were plenty of herbs in this sauce too.
They put some care into the salad, which is an afterthought on many food carts. There were several types of lettuce, tomatoes and cucumbers. A light oil and vinegar dressing was served on the salad, which is much better than food carts using the white sauce as a salad dressing too.
Rice The Great was a good lunch and an excellent value at $6. It didn't quite reach the "great" part of its name, but Rice The Good just doesn't have the same ring. If you go there with the right expectations, you'll have an enjoyable, inexpensive lunch.
Rice The Great is in the same spot every day, the north side of 50th St just west of 6th Ave. They don't have a Twitter account or website, but you can check out their Facebook page here.