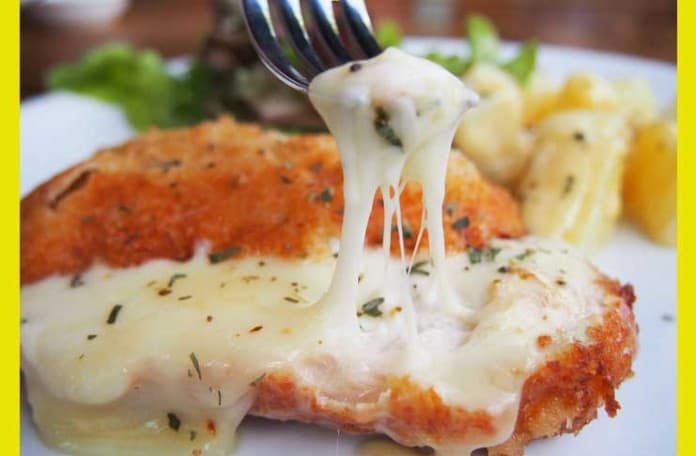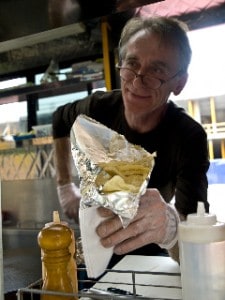 Looking for something other than cheesesteaks in Philly?  We recently told you about some good Chinese food trucks there.  Since I'm heading out of town for a few days, I thought this would be a good time to tell you about some other options, first for breakfast, then for lunch.
For breakfast, La Dominique Crepes (pictured above) at 33rd and Market has a killer breakfast entrée of a crepe stuffed with sausage that can compete with any hash-slinging L.A. truck.
Mickey D's Grill, also at 33rd and Market, has some of the best Philadelphia can offer for breakfast. Instead of regular toast, you'll get two slices of pound cake, browned up just right. Throw in an egg and broccoli rabe mixture with provolone and spices and you're good to go.
For lunch, if you want falafel, Christo's falafel at 20th and Market is one of the best.  Greek Gus has a way with a falafel, but he tends to run out early.
Then there's Ton Ton, owned by Keiko Naka.  Her tiny vending cart is decorated with Hello Kitty, and she serves up excellent foods such as curried rice omelet and fried chicken. The prices are reasonable and the food is exceptional. She is also located at Market and 33rd Street.
For Caribbean and soul food, Denises Soul Food at 3rd and Market makes a macaroni and cheese that is fantastic. You should also try their famous peach cobbler. Denises Soul Food is located in a pink truck, so it's not hard to find.
There are many other good choices available, but this is a nice start if you want some good and interesting street food in Philly for breakfast and lunch.