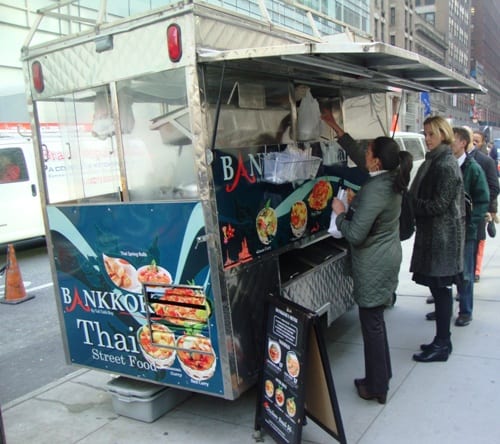 We felt like Thai Street Food, and it's been a while since we've been to the Trini-Paki Boys cart and headed over to 43rd St just east of 6th Ave to see what specials they had today.
Oh no, Trini-Paki Boys was gone, and they weren't across the street either. Anybody seen them around lately?
We know the owner was having health problems, but we hoped they were in the past. If Trini-Paki Boys are gone for good, they will be missed. Not too many places to get doubles on the street. Please let us know if you see or hear anything.
In it's place was Bankkok Thai Street Food, which looks like another outlet in Tuk Tuk Boy's expanding empire. It has basically the same menu as Tuk Tuk Boy and Muay Thai, and we recently had this for lunch, so we headed elsewhere. In addition to the menu below, they had a ginger chicken special for $7.
Don't worry, we'll stop by soon to check out the new Bankkok cart. Has anyone tried it yet?