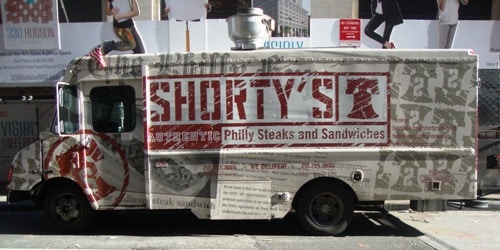 Question of the Day: Can you eat lunch at a cheesesteak truck if you're a vegetarian? Sounds like an oxymoron, but we gave it a try. No, we're not going vegetarian, just expanding our palate. So if veggie, then broccoli rabe sandwich.
Shorty's truck was parked nearby, and having already tried their beef, chicken and pork cheesesteaks, we were curious about the Veggie Combo.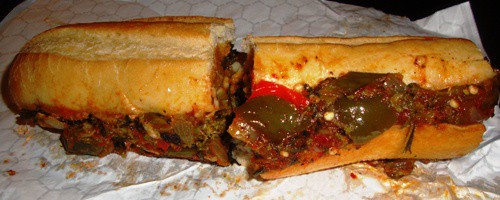 Vegetarians already know this, but many carnivores don't: vegetarian food doesn't have to be bland and boring. In fact, the Veggie Combo was one of the spicier dishes we've had recently.
The Veggie Combo is made with homemade broccoli rabe, Italian hot peppers, sweet bell peppers, fried onions, marinara sauce, and provolone cheese.
When ordering a broccoli rabe sandwich, Shorty's recommends getting sharp provolone. It costs $1 extra, but is strong enough to stand up to broccoli rabe.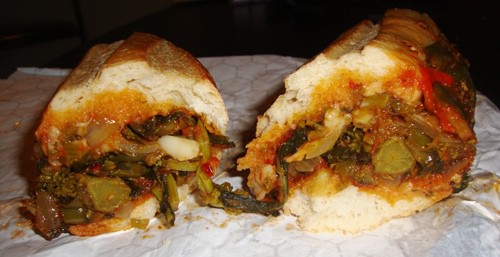 They were right. The sharp provolone came through loud and clear. Make sure you want a strong, pungent cheese before ordering it. We enjoy sharp cheeses, and were happy with the extra flavor. Regular provolone can be easily overpowered.
The other predominant taste coming through the broccoli rabe sandwich was the heat from the Italian hot peppers. These babies put some serious burn on our tongue! We've had Italian hot peppers before, but these were definitely higher on the Scoville scale.
The Veggie Combo also has a light marinara sauce, which rounded out the sharp edges a bit. Without it, the broccoli rabe sandwich would have been more bitter from the greens.
To get that authentic cheesesteak experience, Shorty's imports bread dough from Le Bus in Philly. They cook it up hourly on the truck, which has a bread oven. It's good, but there were so many juices, the bottom still got soggy before eating.
You can find the Shorty's truck on Twitter here or on our Mobile Munchies Twitter feed.
In addition to various cheesesteaks, Shorty's recently started serving salads and cold heros, which they call hoagies. Sorry, we're from New York, not Philly. We call them heros here.