Eating al fresco has always been a refreshing option for many food patrons and diners. As restaurants try to diversify and modify their ambiance, more and more people seem to enjoy eating on open-air rooftops, in exclusive restaurant gardens, or in the extended hallway of cafes. Simply put, diners tend to enjoy their meals better when they can breathe fresh air instead of being confined inside. 
Al fresco dining is a hot strategy for restaurateurs today, as seen and it's best to stay ahead of the competition by offering it first to your dine-in customers. From solo eaters and families to couples and pet parents, al fresco dining caters to a broad group of preferences. 
Discover more of the reasons why al fresco dining is a smart move for your food business: 
1. Serves As A Free Advertisement To Others  
There's a sense of truth in saying that some marketing strategies can sometimes break the bank. Printed ads, social media advertisements, and other marketing mixes require some investment to expose your restaurant and brand more. 
Fortunately, you can take advantage of al fresco dining as one means of advertisement. It allows the free advertising of your brand as people from outside your facilities can check out more about your offerings.  
Your customers act as promoters and brand ambassadors when they start eating their ordered dishes with delight and joy. Other people who are passively strolling on the paved roads can catch a glimpse of your beautiful outdoor dining tents and get intrigued to check you out. As a result, your business and outdoor dining experience will be exposed to a broader audience.  
The key is to provide an enjoyable al fresco dining experience for guests. Before this marketing strategy beats your other promotional methods, you need to ensure that your guests are in their most relaxed state while dining outdoors. 
Ensure to have durable and sufficiently placed outdoor dining tents. To show you care about your guests' experience as much as you care about the experience of your customers indoors, have some staff assigned to tend to your customer needs in the Al fresco area. 
2. Perfect For Customers Who Prefer Fresh Air  
Fresh air is undoubtedly one of the best parts of eating outside. In comparison, breathing fresh air is healthier than being in an air-conditioned space. There are fewer allergens and pathogens in the fresh air. And you can lower your chances of catching any contagious disease when you dine al fresco since the air can flow around more widely than in confined spaces. 
Therefore, consider al fresco dining options for your customers who prefer fresh air. They might want to enjoy a fresh waft into their system instead of stale and recycled air from air conditioning systems.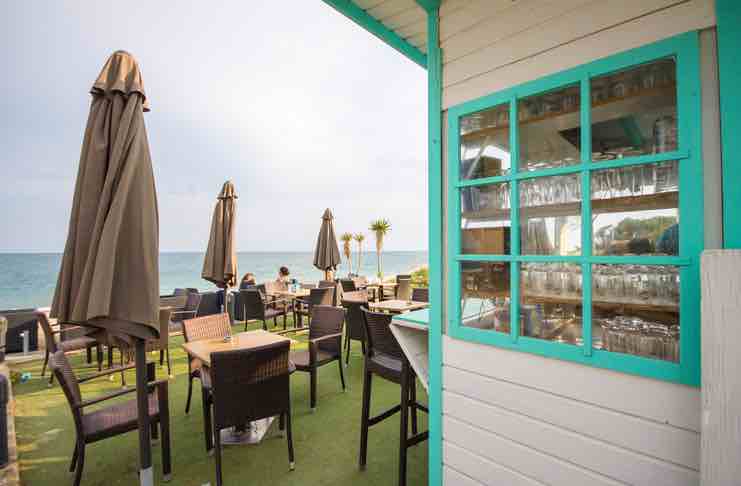 After all, fresh air also decreases anxiety and increases happiness, thereby improving mood. 
Being exposed to natural light provides health benefits for people to boost immunity and receive vitamin D. These are some more important reasons why many people will opt for al fresco dining. Maybe some, especially those stuck in their office, prefer eating outdoor meals as it offers the opportunity to stay healthy and fit.  
3. Accommodates More Diners  
Extending to an al fresco space for your food business means raking in more money. Why? Because this means you'll be able to accommodate more diners and attract those who prefer outdoor seating. 
Depending on your target customers, perhaps some would want to enjoy the views outside. Or there could be a large family gathering that can't fit into your restaurant; an al fresco space is the best ambiance for them as they talk more comfortably and share laughter without making so much noise that can irk other diners.  
4. Converts Your Restaurant To Be Pet-Friendly  
More millennials are choosing pets over babies, leading to the rise of pet-friendly restaurants in the restaurant industry. It's best to join this bandwagon and attend to the needs of pet parents. 
One great advantage of having an al fresco dining space is that it's possible to accommodate dogs, cats, or other pets. Since the outdoor space is safer for them to lounge and enjoys the air, their parents would love to take them while they dine. 
Simply put, there are more sales opportunities at restaurants that allow dogs and cats. Another brilliant sales tactic is to offer dog-friendly meals and other services that enhance their experience even more. 
As the owners realize how unique and specialized your services and offerings are, this instantly converts them into your loyal customer. The next time they want to bring their fur baby with them, there's a huge chance they'll revisit your food business.  
Conclusion  
There are indeed many ways to boost your food business. But one proven fact is that an Al Fresco dining area will enhance your restaurant's overall customer experience. 
By considering all the reasons above, you can better realize how it will bring in more sales opportunities for your business. But aside from earning money, what's even more important is providing more value and happiness to your diners.