Looking into buying quality food service equipment for your restaurant? You've reached the right place. When talking about success stories in the foodservice sector, some often-talked-about points are the importance of the freshness of food and competent kitchen and waitstaff. It is important to understand that high-quality professional equipment is as valuable as other talked-about nuances that affect the commercial kitchen.
Professional kitchens are required to perform heavy-duty tasks. Equipment that is not designed for high-volume usage is not suitable for such duties. Even if an establishment runs a specialty operation, or has relatively low footfall, quality professional foodservice equipment is essential to their success.
These appliances are designed to last a long time. They usually come with healthy warranties to ensure the owner's peace of mind. Moreover, they can be purchased in a variety of configurations suited for commercial use that are not usually found in household appliances.
The Importance of High-Quality Food Service Equipment in Commercial Kitchens
Professional foodservice operations are fast-paced work environments where reliability on commercial kitchen equipment is essential. If one part of the kitchen malfunctions, it can bring the entire operation to a halt. It is therefore important to invest in professional equipment that comes with the assurance of a high standard of quality. Warranties are also important for peace of mind and many online professional kitchen equipment retailers provide extended warranties on top of standard parts and labor guarantees. 
Purchasing commercial equipment from brands that specialize in the field not only assures that the professional kitchen is outfitted with the latest technology and quality products, but also ensures that the appliances are able to keep up with kitchen duties. Specialty manufacturers bring much-needed innovative technology to commercial foodservice operations.
Purchasing Used vs. New Commercial Equipment in Your Restaurant
Used commercial kitchen equipment can come at significant discounts when compared to new appliances. It is still worth considering whether these savings are worth it in the long run. The new equipment will feature the latest energy-saving technologies and can be customized to fit the kitchen's requirements best.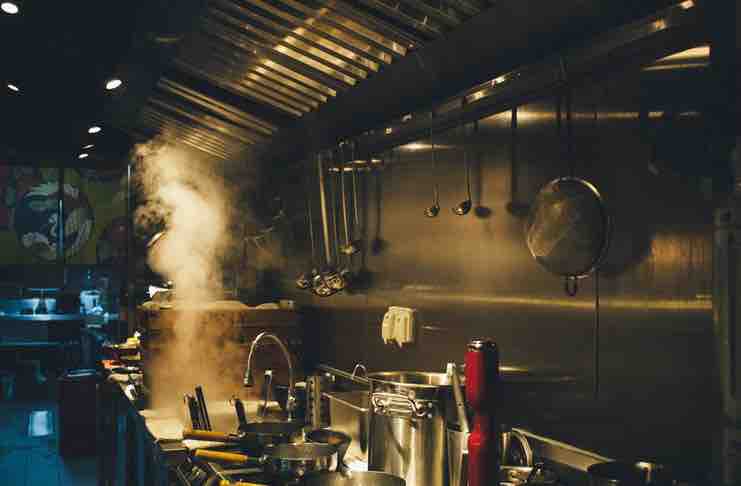 It can be difficult to determine how the previous owner treated their appliances and warranties do not always carry over to second owners. 
To take care of that lingering doubt in the back of the new restaurant owner's mind, it is recommended to spring that little extra for new equipment. To help you save money on new appliances, there are a number of online stores for restaurant equipment and supplies that offer rock bottom prices and better value than brick-and-mortar stores.
Purchasing your Commercial Equipment Online – CKitchen
CKitchen is a fully authorized food service equipment and supplies store that has taken on the role of a major online retailer. The store has its origins in the traditional physical retail business and has modernized its business model to bring you an extensive range of kitchen appliances and essentials at competitively low prices. 
The retailer has a dedicated team of industry veterans that offer advice on commercial foodservice products. The savings from the online business model are passed down to the consumer and their state-of-the-art website and modern interface make it easier for even the first-time user to order their equipment online. 
Orders can be placed online with the help of the customer service team and shipping is quick and free of charge. What makes the company unique in the market is its dedication to providing a contemporary and user-friendly interface so that users can make informed purchase decisions. 
Of course, there is the matter of customers not being able to physically inspect products before a purchase decision is made, but online reviews and the aid of their customer service staff take care of any pre-purchase anxiety.
The Versatility of Ordering Restaurant Equipment Online
Online stores like CKitchen allow the consumer to purchase their equipment at reasonable and competitive prices. And all this, with the same warranties and services that are provided at physical stores. All reputable industry brands have an online presence. This enables the end-user access to otherwise expensive equipment at a reasonable price. 
Industry-leading names have a high reputation to uphold. That's why their wide range of commercial foodservice products have long lifespans that are meant to last a lifetime. The versatility of shopping online gives consumers the ability to browse extensive catalogs. And after they do their research, they can purchase equipment that will best utilize their available area and save valuable kitchen space. 
These custom-tailored kitchens can maintain a fast-paced workflow. This means that orders come out on time and customers are never left waiting for their food. Purchasing brand-new equipment ensures that the buyer gets the latest technology in terms of energy savings and saves money in the long run. 
All new kitchen appliances follow strict guidelines for standards set by governing bodies. This applies to energy-saving and providing essential safety features. These regulations ensure that the surfaces food comes in contact with are in compliance with cleanliness directions and are made of food-safe materials. Hygiene is of the utmost importance in the food service sector. It is essential that appliances do not taint the food, even at extremes of temperature.
 Final Thoughts
The foodservice industry is an ever-evolving sector with constant innovations and changing technologies. Access to new food service equipment makes sure that the owner is getting nothing but the best. The energy savings alone can make up for the extra money spent on purchasing new equipment vs. old. 
High-quality equipment from reputable manufacturers can always be purchased through online retailers. These offer the versatility of browsing large catalogs from the comfort of home and office spaces.
The changing landscape of the foodservice retail business has allowed users to purchase expensive equipment at reasonable prices. It empowered them with access to space-saving and energy-saving appliances. 
As commercial foodservice workspaces are getting smaller, equipment is also getting more efficient at saving space. It provides kitchen workers with a greater area to maximize their workflow. These appliances come with certifications that establish greater reliability and consumer trust in them. Multifunctional devices allow the commercial kitchen to make do with less and save the restaurateurs the costs of purchasing single-use appliances. 
Want to read more of our latest posts? Check out our list of best food trucks in NYC for 2021.