Selling food can be a profitable line of work; after all, the industry generated a whopping $621 billion in 2020, in spite of the COVID-19 pandemic and lockdowns. Unfortunately, many eateries struggle to stay in business. Recent statistics show that 60% of new restaurants won't last longer than a year, and an additional 20% of restaurants go out of business within a five-year period.
There are many reasons why restaurants struggle. Financial problems can wreak havoc on a new business. Supply chain problems and a national worker shortage have also wreaked havoc on the restaurant industry. Even so, branding often plays an important role in determining which restaurants succeed long-term and which do not.
Branding for food vendors is different from branding for other businesses. Following is a comprehensive guide to help you create a lasting brand that will bring in customers, generate sales, and cultivate brand loyalty.
Before You Get Started
It's important to do careful research before starting a food vending business. Additionally, you'll want to examine your sales data periodically to ensure your business is still on the right track. Here are some important questions to ask yourself before building a brand:
Who is Your Ideal Customer?
As a food vendor, you're likely happy to serve anyone who walks in the door. Even so, it's important to identify which target demographics would be most likely to purchase the food you're offering.
You can sort your target audience by age, gender, ethnic background, or even location. If you run a pizza place next to a university campus, for instance, your target audience is likely university students living on campus or nearby. If you run an upscale restaurant, you may target tourists coming from out of town as well as wealthy individuals living in your local area.
How Would You Describe Your Brand?
If you had to describe your brand in a sentence or two, what would you say? Would you emphasize your location the food you offer, your unique style of decor, or outstanding service?
An "elevator pitch" isn't just for salespeople. It's also a must-have asset for any food vendor that wants to help people get to know and remember his or her business.
Why Would People Choose You Over Competitors?
What sets your restaurant apart from the competition? Perhaps you offer unique dishes or cuisine not available from other local eateries. Maybe your low prices bring in people who have a limited budget.
Alternatively, you may be located in a particularly great spot; i.e., on the beach or next to a major tourist attraction. Perhaps you have services and features other restaurants don't have; these can include a large indoor play area for kids, private rooms, event hosting, or unique catering services (Food truck catering is extremely popular these days!).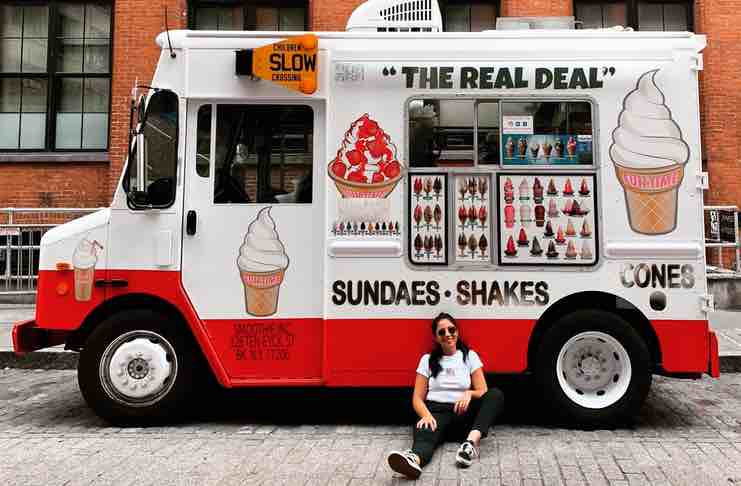 Essential Food Vendor Branding Elements
Logo Design
Every eatery should have a unique logo. The right pictorial image (or wordmark) will help people readily identify your products/services, showcase what you offer, and appeal to your target audience.
Another key point to keep in mind when designing a logo for your food business is that a good logo will stimulate the appetite, making a person want to stop in for a bite to eat or order food from home. That is why many eateries use an image of a signature dish as their logo. Such logos can be effective, but they aren't the only option. Ethnic food vendors, for instance, may want an image representing the country their food comes from.
It's important that you consider both your current state and future plans when picking a logo. You want an image that accurately represents your business now and in the future. If you're not graphic design-savvy and aren't sure how to approach your logo, you can design a logo for free online with an instant logo tool to get ideas. 
Brand Colors
Colors subconsciously stimulate the senses and convey certain messages to potential customers. Red, yellow, and orange, for instance, stimulate hunger, which is why they are frequently used by popular food vendors such as McDonald's, El Pollo Loco, and Burger King.
Other great color options for restaurants include:
Green: It denotes freshness and nature, and can be ideal for vendors promoting natural, healthy, and/or organic foods

Black and white: denote class and cleanliness.

Burgundy: this shade works well for bars and luxurious restaurants
Bear in mind that combining certain colors changes their overall message and vibe. Red and yellow, for instance, are ideal for vendors offering fast foods. Red and black, on the other hand, convey luxury and class, while red and white are colors of choice for a pizzeria.
Watch this to get a few more tips on how to choose your brand colors:
Packaging Design
When it comes to your packaging design, your food packaging should be in line with your branding colors. It should also be an accurate representation of what you offer both on and off your premises.
If, for instance, you sell organic foods, using tan or light green as part of your packaging design could be a good option. A light yellow can work well for many casual eateries, while upscale venues may want to use a burgundy or white background with printed decorations.
Packaging must also be convenient. It should be easy to open or unwrap a dish and then seal the package, so food can be stored for later if so desired. Packaging must also be safe, so customers don't burn themselves or spill food. Keeping practical issues in mind is imperative if you want to succeed long-term.
Just like with your logo design, there are package design tools and services online where you can get your packaging designed by pro designers. 
Premise Branding
Anyone selling food needs a premise brand, even if the food is being sold from a truck. Premise brand attracts customers to your venue, helps people identify your business, and showcases what you offer in the best possible light.
Bear in mind simplicity is best when designing your premises brand. Avoid making the venue too colorful unless you are targeting parents with small kids. Rather, pick two or three primary colors to use along with a few accent colors to accentuate various areas of your restaurant.
When choosing colors, consider how they will look at the time of day (or night) when most people visit your venue. Green, for instance, is a great color choice for many restaurants, but bars rightly avoid it because it looks swampy in dim lighting.
Menus
Your menu, like other aspects of your branding, should match your style and brand colors. Use clear text that can be read with ease and divide your menu into sections for easy browsing.
Your menu should also explain each dish concisely, so customers know what they are getting. Adding pictures, as space allows, can help you promote certain dishes. There is nothing like an image of a scrumptious dish to make customers want to try it out.
Your menu text should also match your overall style. Casual eateries, for instance, can use informal language to describe a dish, but vendors selling upscale food will want to use formal language that matches the venue's food, services, and ambiance.
Watch this video to learn more about how to plan your menu:
Use Instagram
Instagram has over 1 billion users. It's free and a perfect social media platform for promoting visually appealing products, including food.
Use only high-quality images to promote your brand on Instagram and pay close attention to detail. Is the lighting just right? Is the tablecloth in the background clean, and does it match the dish you are showcasing?
Your Instagram account should feature your logo and brand colors along with your dishes. You want to not only make customers want what you have to offer but also make sure they know where and how to place their order. Here are some more tips on using Instagram for food vendors. 
Staff Clothes
Staff uniforms are just as important as the colors used for your walls, tablecloths, furniture, and food packaging. Your employee's clothing should reflect positively on your overall brand and make people feel comfortable doing business with you.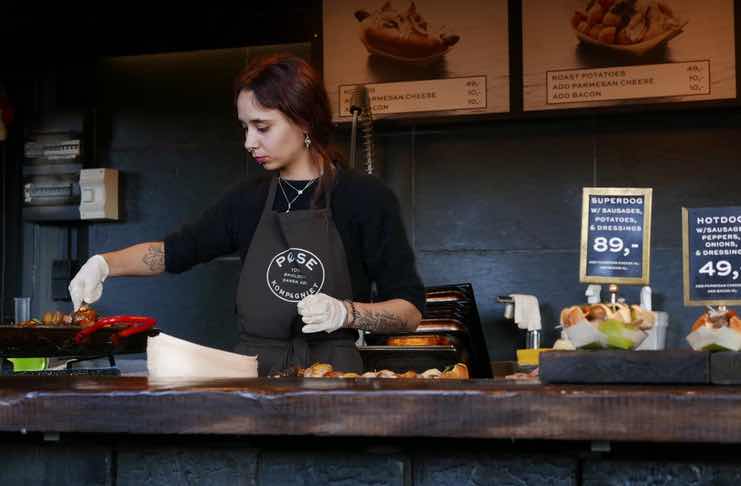 Uniforms should match in color and style with your overall brand. They should also feature your brand name and logo. A dark color can be ideal if you are concerned about spills and stains.
The fabric should look durable, and be comfortable for your employees. It should be easy to clean, and it should look good in all seasons and in varying sizes.
Loyalty Cards
Loyalty cards are a must for a food business as they offer so many business benefits. A loyalty card makes it easy for you to reward loyal customers with a free drink, meal, or dessert. These are available in varying sizes and styles and typically fit easily into one's pocket or wallet.
Your loyalty cards should use your branding colors and feature your business name and logo. Your stamps on the card should be easy to see, and the reward should be clearly listed. If there are restrictions or conditions, print these on the back of the card, so customers know when and how to claim their rewards.
Punch cards are good to start with, but you will want to transition to an app as quickly as possible, especially if you appeal to an upscale audience. Most people are used to using a smartphone to keep track of such information; what's more, a virtual program is more sustainable than using punch cards. An additional advantage of a virtual program is that customers won't have to worry about losing a paper card.
About 70% of consumers say they make purchases based on how they feel about a brand. Creating the right branding style and color scheme for your food truck, restaurant, or bar will take time, research, and hard work; however, the results are more than worth the effort as your brand will empower you to reach out to new customers, boost brand loyalty, and keep your business in operation long-term.