The old times are gone. You can hardly find restaurants today that operate everything by hand. When did you last see waiters and chefs that only use their heads to operate the hectic workflow of their restaurant? 
Everyone is joining the worldwide technology boom, including restaurant owners and consumers. There's an app or technology for almost every function of a restaurant, and in this post – we'll discuss a few of the most trending ones.
1. Self-Order Kiosks & Tabletop Tablets
Big players like McDonald's, Burger King, Subway, and others started offering Self-Order kiosks already back in 2006. However, mass adoption among smaller restaurants has only begun spreading in the last few years, and for a reason. According to research by Tillster from 2019,  65% of customers would visit a restaurant more often if it offered a self-service kiosk.
So why are these self-service kiosks gaining popularity? Well, first and foremost, they enhance the guest experience from one end, giving them much more control over how and what exactly they order. From the other end of the restaurant owner, these well-designed self-ordering kiosks can improve efficiency, shorten long lines, and increase the average order size (by adding simple upsell popups during the ordering process!). 
And if a Self-ordering kiosk is not an option due to space or budget, smaller restaurants are deploying tabletop tablets that showcase a digital menu. Customers can easily place their orders on the tablet, exactly as they would do at the digital kiosk.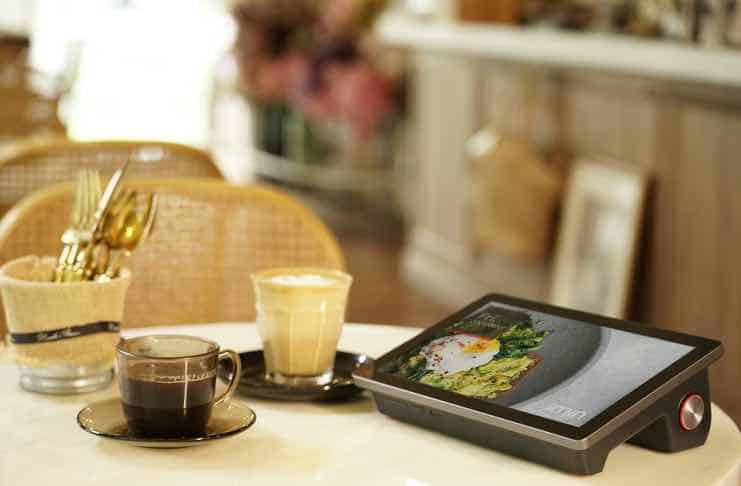 There's no doubt that digital ordering technology is making orders come out much faster than before when we had to raise our hand to call a waiter, wait patiently until he arrived, and only then place our order. 
The key is making sure these Digital menus are easy to read and simple to operate.
2. Waitlist Technology
New York City is filled with popular restaurants with very long waiting lists. Who can forget the brilliant 'Seinfeld' episode about the 'Chinese Restaurant', where they spend the entire episode waiting in line for a table? Well, with the latest Waitlist Management Software – these days are over.
These trending apps assist restaurant managers in managing walk-ins. Guests can now easily add themselves to a restaurant's waiting list online. Before arriving at a restaurant, they can check the average waiting time on the app. 
3. Protect Your Wifi
A restaurant that doesn't offer Wifi these days – may lose regular clients over time. It's a key component of any marketing strategy. However, having WiFi in your restaurant can also become an open hub for hackers – so you need to be protected. 
If your restaurant's Wifi internet is not well secured with good security technology – hackers can easily take over and wreak havoc. So what technology can you easily use? VPN. It stands for "Virtual Private Network", and it's a service that provides a secured and encrypted internet connection. You can easily try a VPN with a free trial if you want to see how it works. 
4. Restaurant CRM System
What does CRM stand for you may ask? Customer Relationship Management is crucial for the survival of any business these days. Nurturing the relationship with your customers, consistently and efficiently, is key.
A restaurant CRM is a hub that connects to all your other restaurant data and assists you in tracking important client data, such as contact info, how frequently a guest visits the restaurant, what he ordered every time, his food preferences, birthday date, and so much more. A good CRM can gather more than 100 different data points. This can make your marketing campaigns much more personalized, giving your clients a more intimate experience, which ends up in stronger loyalty over time.
5. Reservation Apps
Reserving a table ahead of time is probably the most important sales element of any restaurant. Easy to use Reservation Apps allow guests to reserve a table at a restaurant and the restaurant manager can easily manage all the reservations coming in. 
In most cases today, these Reservation apps integrate with a restaurant's CRM, so the table reservation request is automatically linked to the client's profile in the CRM. This allows you to easily customize the dining experience of your client. A good Reservation app will also send automated guest reminders through email or SMS. 
6. Entertainment Apps & Devices
If you opt for Tabletop tablets for your ordering process, you can easily utilize them to also become entertainment hubs for your guests. You can load the tablets with trivia games and other fun games that can enhance your guest's overall experience. Some apps will even allow you to run a live trivia competition in your restaurant.
To conclude…
These are just five of the most effective restaurant technologies that are key to the long-term success of restaurants these days. Sure, there are plenty of great marketing apps specifically designed for restaurants that can automate lots of the annoying tasks of marketing, like automating the gathering of guest feedback, aggregating reviews from various platforms like TripAdvisor, Yelp, and others, and much more.