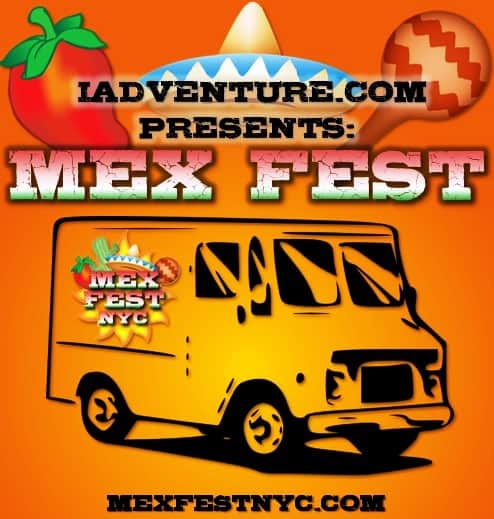 Some of you may remember the 1st Mex Fest, which was thrown by the South Street Seaport on Cinco de Mayo last year. Well it's back again, and there will be plenty of fun events again, and food & drinks galore.
Click through for the details on who, what, when, where and why…because we love you. (Catch the Annette Funicello reference there.)
We also have 2 FREE tickets each for 5 lucky NYSF readers, so get ready to rock!

There's a change of location this year to Hudson Terrace at 621 West 46th Street, a rooftop terrace overlooking the Hudson River.
Sangria will be available from Madria Sangria and Mowie Wowie will be serving Tropical Fruit Smoothies.
Participants will be needed to play in some games & contests like jalapeno eating! From margaritas to cold brews to tequila shots, with a Live DJ all day, this will be a Mexican fiesta to end all Mexican fiestas.
But you can't just drink all day without eating. (You actually can, but it won't be a pretty sight.)
To keep you going all day, you'll be able to enjoy food from some of the best food trucks around, which will be parked right outside Hudson Terrace.
Participating Food Trucks are: Mexico Blvd – Morris Grilled Cheese – Nuchas – Takumi Taco
Food will also be available inside with a raw oyster bar with hot sauce and lime mignonette offered by Brooklyn Oyster Party.
All food and drinks are pay as you go, although some ticket packages include drinks and other goodies.
The first 5 people to say something sexy in Spanish in the comments will win 2 tickets each to Mex Fest. Make sure you include a translation for our non-Spanish speaking readers, and nothing too pornographic. Remember, it's all about suggestion, not graphic detail.
If you are not one of the 5 winners, you can still get discounted tickets here courtesy of NYSF by using the promotional code street50. This will give you 50% off all ticket purchases.
For more info, the Mex Fest website is here.