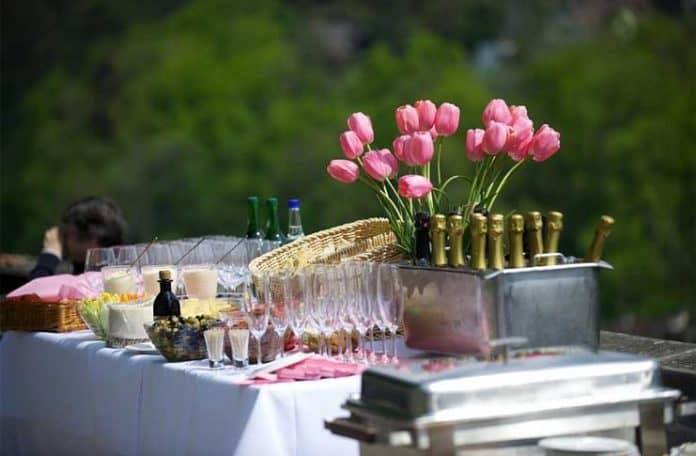 You've got the dress, you've got the venue, and now it is time to choose a wedding caterer. Some people may even argue that the catering can make or break a wedding. Find the right caterer who can provide delicious food and flawless service during your wedding by considering the following issues:
Availability
First and foremost, you need to make sure any caterer you are interested in using has your wedding date available. Nothing is worse than finding the perfect caterer with the best menu and most delicious food only to discover they are already booked solid.
Food
Once you've determined they are available on your wedding date, it is time to do some taste tasting. Some caterers offer prix fixe menus, buffets, or let you create the menu of your choosing. It is always important to clarify what they offer and whether there are limitations. Perhaps you want a traditional hog roast at your wedding, but you also have a handful of vegans attending your big day—can they handle both requests with ease?
Budget and Presentation
Of course, you also need to make sure that whatever you want is within your budget. Ask if they have an average price range and whether something like a buffet is really the cheaper option (you may be surprised). You can also ask to see a portfolio of their work, which will help you get can idea of how the food itself will be presented to your guests. Depending on your venue and caterer, the caterer might also offer specials on dinnerware or chairs and tables.
Experience
Don't be afraid to ask about testimonials from previous customers. Using a caterer with experience, especially if you have special requirements or unique requests, will put your mind as ease on the big day. Spend some time doing research and seeing what previous clients have said by checking their website and third party review sites.
Service
Pay attention to how the caterer treats you during the process—it will say a lot of how they will perform during the actual wedding service. You might also clarify specifics of your big day. For instance, is a champagne toast included in the package? Are the servers able to serve wine with the meal? What is the cost of tea and coffee service after dinner? Is it included or per person? You'll also want to ask about other details like how they will be dressed, how long they will be working, what the overtime fees are, and who is responsible for clean up.
So make sure to check all these when you look for your wedding (or any event) caterer, as these tips could potentially decide if it's a successful event or not…