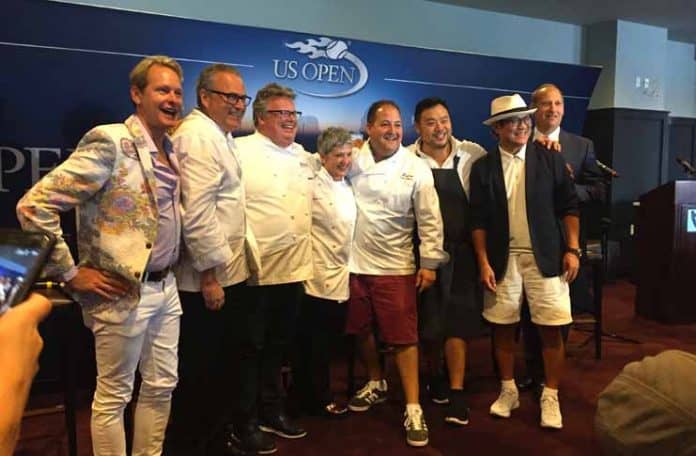 2017 US OPEN Food Village is a celebration of all your Celebrity Chef Hero's.
Queens is lovely this time of year. Tennis is in Flushing. Every Summer the world watches the best of the best in Tennis and those fortunate to experience this 2 week event will also have some of the best food offered by the best of the best chefs.
Walking into the "village" makes me imagine what it would feel like to be in Olympic village. The sights, sounds and smells.
It's the taste of the US Open that has created a culinary experience combined with World class Tennis. Fans coming from all over the world. This is not to be missed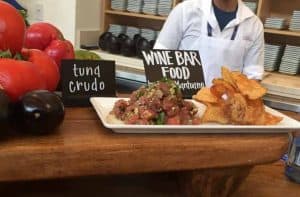 Jennifer Cox, vice president of culinary at Levy Restaurants, who works with the chefs on their U.S. Open menus, spoke about the event: "Our fans are here for an entire day and sometimes that's three meals," she added. "And you can actually eat three meals a day here and have something different"
Encouraging all to experience everything offered from the culinary All-Stars to all the top concessions offering Pat Freida's meats.
2nd year for Korilla BBQ by Ed Song, one of my favorites the KBOP Bulgogi. Purple rice bowls served with carmelized kimchi, beansprouts fire roasted corn, garlic spinach. With a choice of marinated ribeye (YES!) braised ginger seasame chicken, slow roasted pork shoulder in gochugaru (Korean red pepper flakes) and organic tofu with choice of Korilla's signature sauces.
The list continues with Marcus Sameulsson Mojito Restaurant & Bar – try the Short Rib "Ropa" Vieja – Carmelized pineapple, pickled red onion, crushed plantains, beer mole. The biggest hit at my tasting table. It was Sunday dinner at Grandma's. If Grandma was a celebrity chef.
Josh Capon Lure – Lobster BLT Applewood smoked bacon, jersey tomato on a brioche roll with salt and vinegar chips oh and so much succulent lobster !! Did I say Lobster ?? Oh, yes I did! This man is quickly becoming one of my top 3 favorites.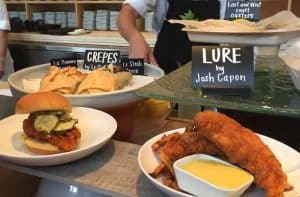 David Chang – Fuku offer's the Fuku Chicken Sandwich. This isn't just an ordinary boring chicken sandy. David Chang doesn't do boring. Habanero brined thigh, pickles and Fuku butter. Looks like a simple chicken sandwich on a bun…but punches you in the face then with a gentle slap and a wow…I can't stop eating this.
David Burke -BLT Prime – personally I love David Burke ever since I had his cheesecake pops. He doesn't disappoint. .A Must have…"Clothes line" Bacon. Black pepper maple bacon and yes served strips hanging on a clothes line.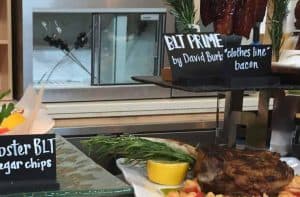 He also is at Angry Taco. Fish Taco's? Yes Please!
Ed Brown and Morimoto – Tuna Tarte on Asian Crisps. The perfect bite. Sushi by Morimoto…bow to the king. No one does it better.
Aces, Tony Mantuano – Wine Bar Food – offered the Ouzo Shrimp, shrimp with potatoes, Jalapenos and Greek Ouzo. This had to be amazing since I never got to try a bite. Passed plates never made it to me as the 100+ press grabbed them first.
Korilla BBQ return with 2 locations in the village and a new Poke stand. Poke Yachty. Poke is all the rage now. Choices of classic tuna, spicy tuna, salmon, crab and shrimp and tofu poke bowls.
Creperie by Le Chef Paul – NEW stand of sweet and savory crepe's
Joju – popular to Queens this Vietnamese modern sandwich offerring : Lemongrass Chicken Banh Mi – classic lemongrass chicken thighs. Loaded Banh Mi Fries – fries topped with house sauce, spicy mayo and green sauce, pickled daikon and carrots, and chopped cilantro and jalapenos with a runny egg.
Banh Mi Bacon Dog, Juicy hot dog loaded with Banh mi fixings and bacon.
Also available favorites: Dean & Deluca, Melt Shop, Neopolitan Express, Emirates Sports Café', Heinken Red Star Patio Café' & Bar, and more…
Signature Drink at the US Open – Grey Goose Honey Deuce. As of the 2016 tournament, nearly a million Honey Deuces had been sold since the cocktail's inception.
What's it made of?
1.25 oz Grey Goose vodka
3 oz Fresh squeezed lemonade
0.5 oz Chambord or premium raspberry liqueur
Crushed ice
Frozen honeydew melons for garnish
The best part? The frozen honeydew melon balls used as a garnish (I always like the vodka part too) Resembling tennis balls, they remind imbibers what the US Open is really about (not that the drinks and food at the USTA Billie Jean King National Tennis Center aren't great on their own).
There is so much to see and do and eat and drink at this years US Open.
This is not just for Tennis fans. Not just for food lovers. This is one of those life events you need to check off your list.
Where and when?
New York's Billie Jean King National Tennis Center from August 28–September 11 for the U.S. Open…
Living and loving in NYC, food has been a passion of hers. East Coast to West, Faith's goal is to explore and learn with the contribution of other like-minded foodies. Faith Rein has written for 2Girlsfromabar@blogspot.com. Youtube channel – faith.rein, love food love faith. You can find her @: Faith.rein/facebook (always looking to add friends) / faith rein@twitter / faith.rein@instagram / faith.rein@gmail.com