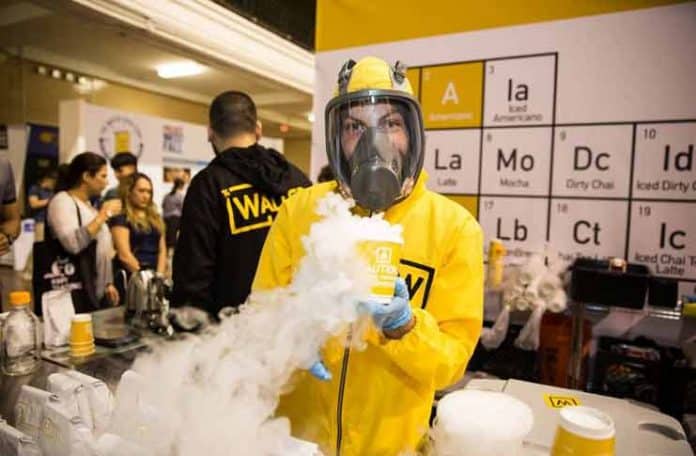 We can't start the day without a cup, so we're definitely going…
The New York Coffee Festival, the city's flagship coffee event, is back on its third consecutive year! The festival will take place this October 13-15 in its new home at the Metropolitan Pavilion (125 West 19th Street).
What's in the works? The producers promise to further expand the festival this year with even more vendors, new lab sessions, latte art demonstrations, and more.
According to Allegra Group CEO, Jeffrey Young, "The New York Coffee Festival is back for its third year with more to offer than ever before. Visitors can expect awe-inspiring exhibits, fascinating workshops and talks and delicious street food – all while enjoying as much coffee as they could possibly want!
This year's Coffee Festival will include over 100 innovative exhibitors, including: Bluestone Lane Coffee, Devoción, La Marzocco, Ally Coffee, Califia Farms, Flat Brew, Nobletree, and more. The three- day festival will also feature the Coffee Masters NYC barista championship, The Lab program featuring an exciting line-up of interactive demonstrations, educational workshops, talks and tastings, the Coffee Music Project, and the Coffee Art Project.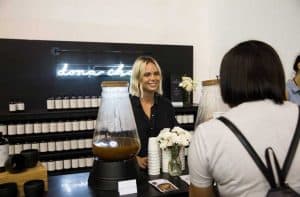 In addition to offering hundreds of free samples from the highest quality specialty coffee and selected speciatly food brands, The New York Coffee Festival is also the official launch event of charitable Coffee Week NYCTM, which promotes the vibrancy of the coffee industry while also raising money for clean water and sanitation projects in coffee producing communities. 50% of all ticket sales will be donated to Project Waterfall with funds directly entrusted to NYC-based charity: water. Through these donations, Project Waterfall will be able to continue bringing clean water to coffee countries such as Tanzania, Ethiopia, and Rwanda. For more information about charity: water and their recent projects, go to http://www.charitywater.org.
EVENT DETAILS:

WHAT: The New York Coffee Festival
WHEN: Fri., Oct. 13th – Sun, Oct. 15th 2017
Friday, October 13 | Trade Session (2pm – 7:30pm)
Saturday, October 14 | Morning Session (9:30am – 12:30pm) Saturday, October 14 | Afternoon Session (12:30pm – 3:30pm) Saturday, October 14 | Late Session (3:30pm – 6:30pm) Sunday, October 15 | Morning Session (9:30am – 1pm) Sunday, October 15 | Afternoon Session (1pm – 4:30pm)
WHERE: The Metropolitan Pavilion | 125 W. 18th St. | New York, NY 10011 TICKETS: www.newyorkcoffeefestival.com/tickets
For the latest on The New York City Coffee Festival, please visit:
Website: www.newyorkcoffeefestival.com
Facebook: www.facebook.com/newyorkcoffeefestival