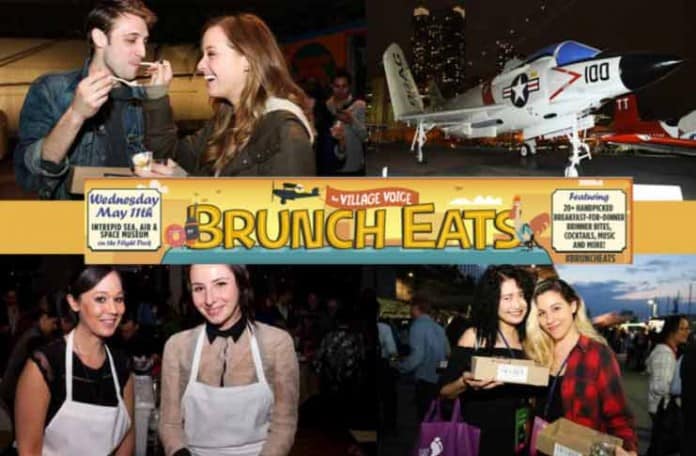 Is this cool or super-cool? The Village Voice will be hosting its inaugural Brunch Eats breakfast-for-dinner food event (the sister event to the annual sell out event Choice Eats) on Wednesday, May 11th from 8PM – 11PM aboard the top of The Intrepid Sea, Air & Space Museum's Flight Deck. Tickets go

on sale

to the public at 10AM on Wednesday, March 30th.
The Voice has released the first round of 8 participants, including The Black Ant, Butter & Scotch, Calle Dao, Le Fond, Nha Minh, Osteria Cotta, Streets BK, Underwest Donuts and many more to be announced!
Brunch Eats will feature 20+ of New York City's top restaurants and bakeries lauded in the Village Voice, with their best breakfast bites, mouth-watering brunch dishes plus themed cocktails including bloody marys, mimosas, bellinis, coffee and more whileenjoying music under the stars.
Guests will sample and sip from all attending vendors aboard the top of The Intrepid's Flight Deck, amongst propeller planes that were used during World War II.  VIP guests will be treated to a unique experience in the VIP Space Shuttle Pavilion, which houses the Enterprise space shuttle. VIP ticket holders will enjoy additional sips and snacks underneath the Shuttle with a self-guided tour through the Pavilion.
Brunch Eats is accepting volunteer applications until April 27th to assist the Voice team on-site at the event. All volunteers will receive a free general admission ticket to the Village Voice Brooklyn Pour Craft Beer Festival. For more information and to apply, visit here: http://microapp.villagevoice.com/brunch-eats/2016/volunteer.php.
Sponsors for Brunch Eats include: Califia Farms, Whole Foods Market, Vita Coco, Enterprise Rent-a-Car, Frames NYC, John Wm. Macy's CheeseSticks, Barefoot Wine & Bubbly, Polar Beverages, and Green Mountain Energy.
EVENT DETAILS:
The Village Voice's First Annual Brunch Eats Breakfast-For-Dinner Food Event
DATE: Wednesday, May 11th 2016
VENUE: The Intrepid Sea, Air & Space Museum's Flight Deck
    12th Ave & W. 46th St. | Manhattan, NY 10036
TICKETS: On Sale: http://bit.ly/BrunchEatsTix
General Admission Ticket – $60 | VIP Ticket – $85
TIME: 8PM – 11PM
For the latest on "Brunch Eats" please visit: www.bruncheats.com 
About Village Voice Events: The Village Voice has independently produced and created such celebrated events as the Choice Eats, Obie Awards, 4Knots Music Festival, Choice Streets, Holiday Spirits, Brooklyn Pour, as well as the most anticipated issues and guides of the year including the annual Pazz and Jop music poll, Best of NYC, and its Spring, Summer, and Fall Preview guides. The Voice is New York's most influential must-read alternative newspaper in print and online. For more information on the Voice or its events, please visit us online at www.villagevoice.com.