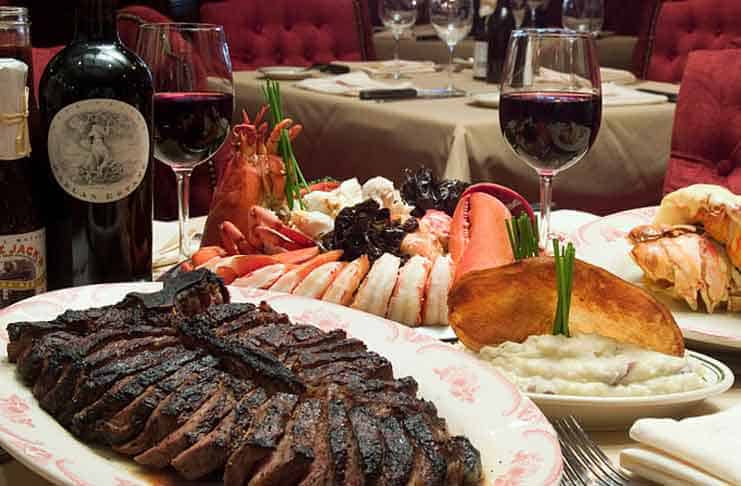 By Loren Noel
Are you also always on that never-ending search for the best Steakhouse in NYC? Well, there are very few meals that compare to a steak dinner. There are even fewer dinners that compare to a steak dinner at New York's iconic Uncle Jack's Steakhouse. With elegant décor, a classic speakeasy vibe, and a luxurious atmosphere that would make anyone feel like a million bucks, this restaurant definitely makes it to the top list of the 'Best Steakhouse in NYC". It will certainly leave you happy and full. Owner and Chef personality Willie Degel was inspired to build the ultimate steak experience by his grandfather, who owned what was at the time, one of the most popular and esteemed New York steakhouses in the 1920's.
2016 marks Uncle Jack's 20th year in business and to celebrate, this opulent steakhouse is rolling out special menu items in its multiple New York City locations, and surprising diners with unexpected twists on favorite dishes. Last week was my first experience at the restaurant and it certainly won't be my last. My guest and I opted for the 5 course tasting menu, which was accompanied by incredible wine pairings, and friendly service.
Our first course at the best steakhouse in NYC came out with a selection of warm, fresh breads, such as cinnamon raisin buns and pretzel rolls. We were served a beautifully presented and refreshing Buffalini Mozzarella Tomato Salad with fresh greens, basil, and a nice balsamic reduction. Next came the steakhouse's twist on the original Oysters Rockefeller: Oysters Jackafeller, which had the half shells stuffed with a fresh spinach layer, filled with a cheesy, well seasoned topping, and baked until golden. I've never had either version of this appetizer; however, it's safe to say that this is one of the most decedent ways to enjoy this sea treat.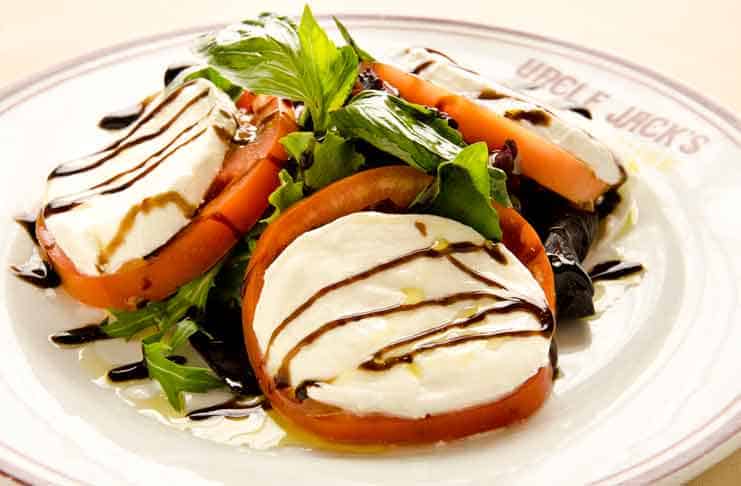 To continue our dive into Uncle Jack's seafood offerings, we were served thick Maryland Style Crab Cakes, that were no joke. Unlike the usual bread-crumb filled hockey pucks that often are falsely advertised as 100% "crab," these large disks were thick and full of the luscious, buttery meat, and served atop a rich bisque-like sauce.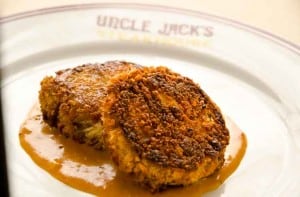 Next came the heartier dishes, which are naturally part of why Uncle Jack's is always on the list of the best steakhouse in NYC. Our attentive waiter brought out the French Lamb Chop "Lollipops." As one of my favorite cuts of meat, these flavorful chops didn't disappoint, and I ate every bit off the bone. The lollipops had a delicious, crunchy, panko crumb coating, and came bathed in a savory sauce. I'm not going to lie—by this point of the meal I was already semi-full. However, once the grand finale of Porterhouse steak for two was brought to our table, I knew I had to make room.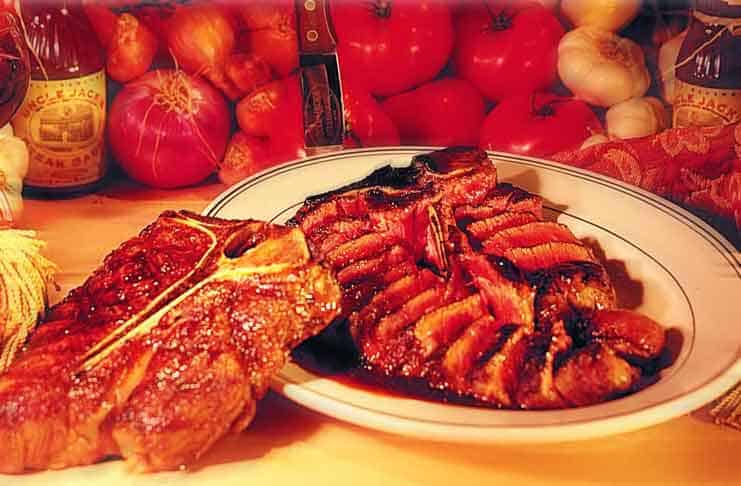 The 44-ounce behemoth came sizzling hot and featured both the filet and the NY Strip cut. Befitting its rank on the list of 'Best Steakhouse in NYC", Uncle Jack's only serves the best quality, hand picked, USDA dry-aged prime steaks and meats, which are then aged to perfection in house. Steaks are cooked in 1800-degree infrared broilers that give the meat a nice char, all while searing in the natural juices of the meat.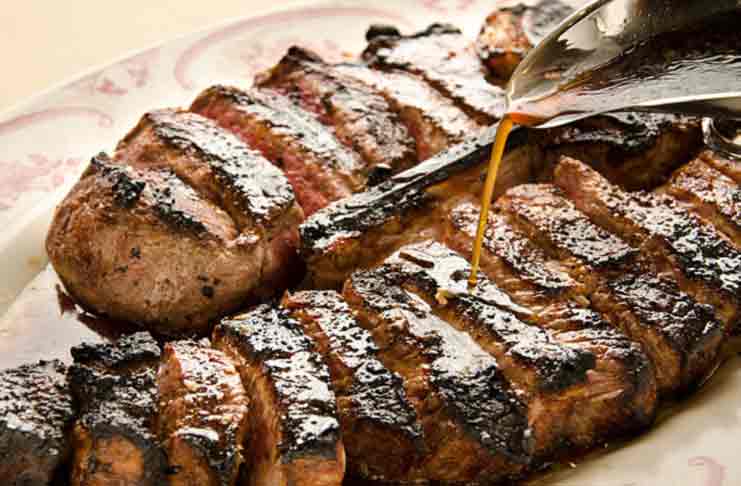 Not only was our juicy, satisfyingly tasty Porterhouse tender and flavorful, but it was served with the restaurant's natural au jus. Though the steak was unbelievable on its own, this hunk of meat was served with the ideal sides including: asparagus, mashed potatoes, and separate plates of both sautéed mushrooms and spinach.
The meal came with an excellent selection of wines which ranged from whites to reds, many of which came from the wine mecca of Napa Valley, California. One of my favorites was the white Caymus Conundrum, a blend of Chardonnay, Sauvignon Blanc, Semillon, Muscat Canelli, and Viognier.
Last but certainly not least came an indulgent selection of desserts which offered fresh strawberries and a sprinkle of powered sugar; a decadent melt-in-your-mouth chocolate mousse; a buttery, soft cookie-crusted pecan pie slice; and a big helping of tiramisu, an intoxicating mix of ladyfingers, mascarpone cheese set in layers of cinnamon, cream and cocoa powder.
If the fabulousness of this meal is any indicator, Uncle Jack's Steakhouse will be around for decades to come, and surely remain on the prestigious list of 'Best Steakhouse in NYC'.
Uncle Jack's is open for Brunch, Lunch, and Dinner, and offers a gluten-free menu for those with dietary restrictions. Locations of this steakhouse are Bayside, Westside, and Midtown. For hours and reservations, click here.