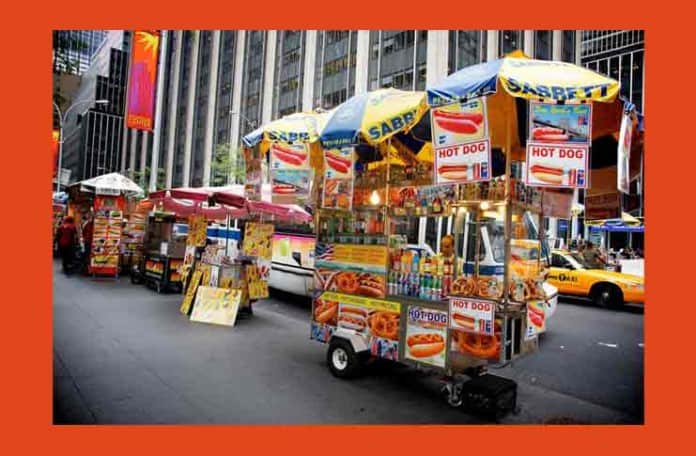 Looking to start your own Food cart or truck in the city? Don't know if you need a Food Vendor Permit or License?
Well, first off – all food carts and trucks in the City must be licensed.
You must get a license, which is basically a photo ID badge, in order to run a food business, no matter if year-round or seasonally. The license is called a Mobile Food Vendor Personal License.
However, that's not it. You should also have a decal permit for any food cart or truck where food is sold. This food vendor permit is called a 'Mobile Food Vending Unit Permit'. Both the license and permit are required to operate a food vending cart or truck in NYC.
The Waiting List: As much as you want to start your food empire here and now – it doesn't work that fast. The number of MFV (Mobile Food Vending) permits which are issued for use on public space is naturally limited by law. For this purpose – there are waiting lists for various categories or permits.
New permits are available only to vendors who were placed on the Food Cart Waiting List and notified by the Department of Health to apply for the Food Cart permit. When and if you are indeed notified, you must file an application in person at the Department of Consumer Affairs (DCA) Licensing Center. After that—you need to contact the Department of Health to schedule an inspection appointment and have a permit sticker affixed to your food cart or truck.
How much does it cost? The fee is $200 for a processing food unit and $75 for a non-processing food unit. There is a special no-fee for Veterans, who do not have to pay the fee.
Can I bring my food cart to any street fair or event? Unfortunately No. The permit doesn't authorize food vending at special events or street fairs. For such events – you will need a Temporary Food Service Establishment permit.
For how long is the food vendor permit good for? The permit expires two years from the previous expiration date.
Can I renew my MFV permit? Yes indeed. MFV permits require renewal, and the renewal forms are sent to permit holders to their last known address of record.
You can also call 311 to apply for or renew your permit.
As you surely know, food businesses require licenses before they may lawfully sell and buy food. Obtaining the required licenses requires comprehensive documents containing all business details as well as the qualifications, knowledge, and other information about the business and its owners. At sites like Template.net for example, you can choose the best suiting templates that you need for your business – from their ready-to-use license template gallery.