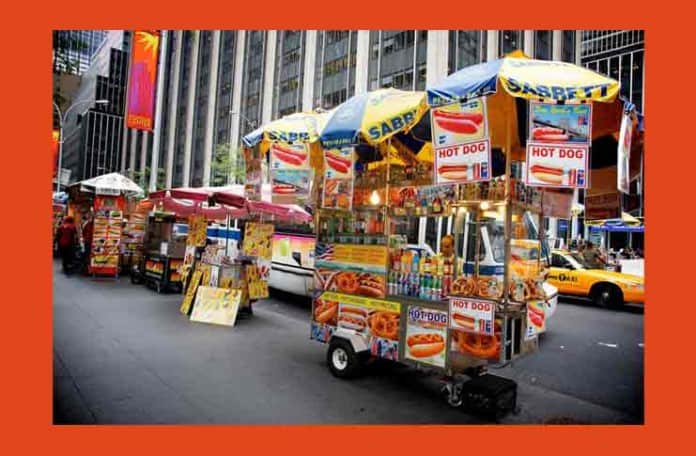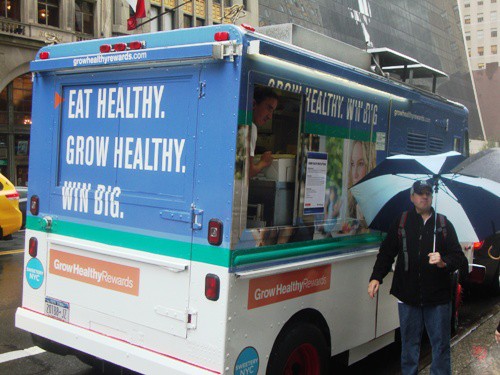 I stopped by the United Healthcare truck yesterday on West 57th St for a FREE lunch.  It was raining and windy, so there wasn't any line.  I walked right up and got my lunch, but thankfully NYSF reader "midtown-g" tipped me off that the portions were half sandwiches.  "That doesn't constitute lunch to me", he emailed me.
Midtown-g said you had to scan a QR code, create an account, then get points to use for the giveaway.  He said the process didn't work, and the people at the truck couldn't explain it to him either.  He did finally walk away with lunch, but wasn't even sure what he got.
Armed with this info, when I went to the truck yesterday, I asked for (and got) two different half-sandwiches, tuna salad and roast turkey.  I don't know if it was because of the rain or because the system didn't work, but I didn't have to deal with any shenanigans about points or QR codes.  I just walked up and asked for the sandwiches I wanted.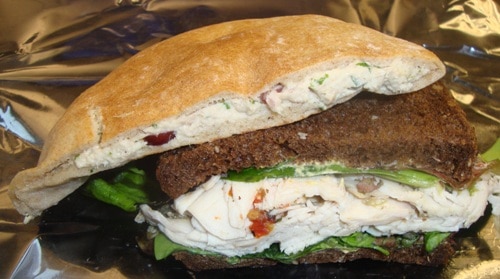 The tuna sandwich with apples and cranberries in a whole wheat pita was quite tasty.  Apples, and especially the cranberries, really added a nice flavor to the tuna salad.
The roasted turkey breast sandwich had arugula, sun-dried tomatoes and dijon mustard.  It was served on pumpernickel, and was a good sandwich. The turkey seemed like a good quality roasted turkey.
Of the two, I preferred the tuna.  That was partly because I haven't had a tuna sandwich in quite a while, but it was also because the fruit was a nice addition to the tuna.
Between the two half sandwiches, I got a FREE, healthy lunch courtesy of United HealthCare and SweeteryNYC.
You can still get a FREE breakfast, lunch and evening snack through Saturday. Click here for the locations and schedule.  Lunch is on the south side of West 57th St between 5th & 6th Ave.