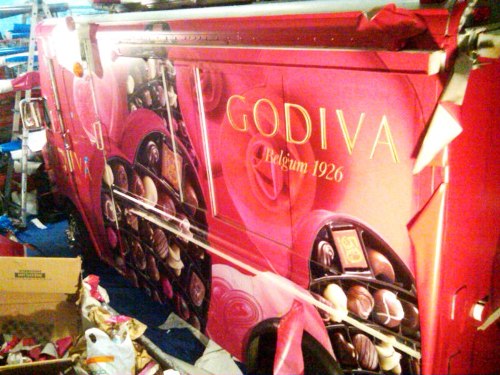 Above is the making of the GODIVA on the GO truck, which is coming to a deliciously decadent Manhattan location today & tomorrow.
Don't have time to run to the Godiva store? No worries! The Godiva on the Go truck is coming to you. The GODIVA on the GO mobile truck will be filled with chocolate gifts, and set to make stops at 3 key locations each day, Feb 13th & 14th.
Valentine's Day is historically GODIVA's busiest day of the year and this season, the legendary chocolatier is making it easier and more convenient for consumers to buy chocolates for their loved ones. Filled with GODIVA Chocolates, the truck will make its way through New York City for busy New Yorkers looking to "Share the Love" of chocolate with their loved ones.
Follow @GodivaChoc for locations via hash tag #GODIVAontheGO.
Products onboard will include GODIVA's Valentine's Day favorites including the classic Gold Ballotins ($15 – $50), with an assortment of milk, dark and white chocolates filled with pralinés, ganaches and caramels, the new Paisley Hearts Collection ($15 – $30)and the Valentine's Day Keepsake Hearts Collection ($50 – $100), featuring red satin fabric hearts filled with a special Valentine's Day assortment of chocolate.
The GODIVA on the GO Mobile Truck will be at the following locations/times:
8am – 10am: Madison Avenue & 42nd Street (SW corner)
11:30am – 2pm: Park Avenue and 23rd Street
4:30pm – 7pm: Broadway & 67th Street
ENJOY!