Last Friday arrived without any damn notice. I was packed with so much annoying work during the whole week. It was definitely among my 5 worst weeks of the decade. And I just couldn't believe it was Friday again. So I treated myself for dinner.
It was my first time at Babbo, an Italian restaurant in Greenwich Village, known for its homemade pasta. Babbo is also known for its Pasta tasting menu, which basically allows a small group to try a selected set of pastas. But I came alone, so I had to pick a dish…
Ever since I heard of Babbo, people have bombarded me with sooooo many "you gotta try that!", "You can't leave without trying this!". I never really listen or remember any of these tips.
So I picked the Gnocchi with braised oxtail.
I Don't remember the last time I had Gnocchi, probably 5 or 6 years ago, but as soon as my mouth got hold of Babbo's Gnocchi, my entire week turned upside down. The Gnocchi was so light and yummy, and the oxtail was so damn tender and full of heavenly flavors. It was also a super generous portion, which allowed me to lavish on each and every bite. I almost thought I was in heaven, until I ordered the dessert….
However, before I go into that unheard of Coconut white Chocolate cheesecake, a few words about the nice staff at Babbo. Every waiter I encountered was super courteous and extremely polished. They smile in a professional way, and answer every question with lots of confidence. It seems as if they help produce that top-notch feeling you get in these top-notch restaurants.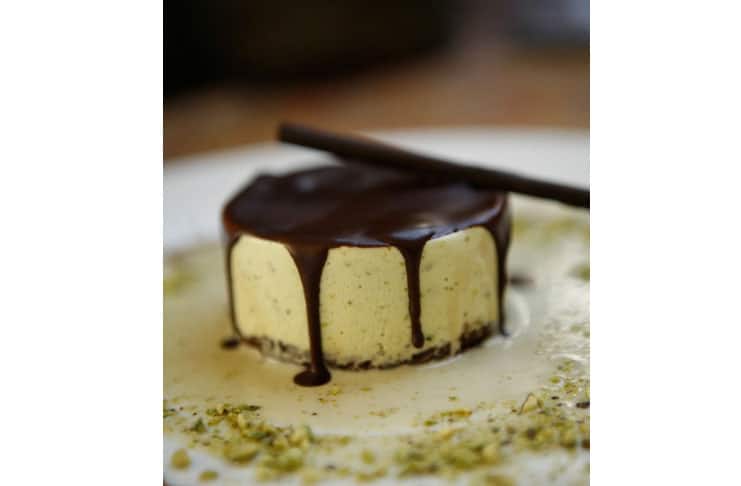 So back to my dessert: a heavenly chocolate cheesecake made with mascarpone instead of cream cheese. It was spectacular, and it alone was worth my journey to Babbo. It was also the damn reason I came back to Babbo the following day. Hell, I deserved it…