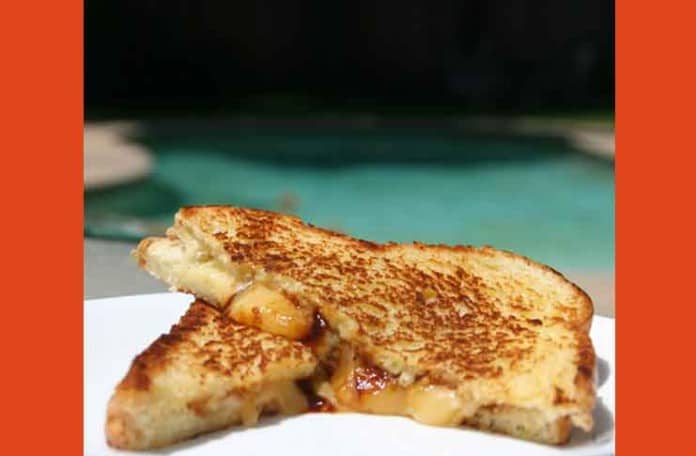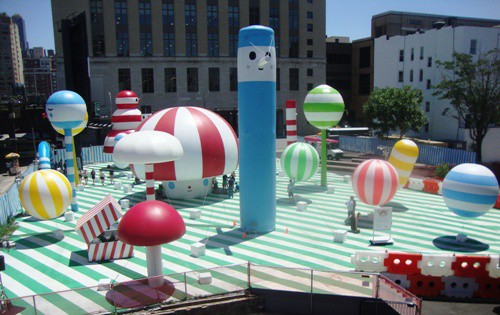 I have been wanting to get over to the Lot at 30th St (and 10th Ave) to check out the new food truck court, and I also wanted to see the adjacent Rainbow City exhibit.  Yesterday was the last day for Rainbow City, so I headed over around lunch time to see it in person.
Rainbow City was a fun art installation for everyone, not just kids.  It's colorful and whimsical, with some elements of interactivity too. The guys at the exhibit didn't know what was coming next to that space, but we hope it's as cool as Rainbow City.
And right next door is the Lot at 30th St with a rotating cadre of food trucks and a beer garden.  What's not to love?
On weekends there can be 4 or 5 different food trucks there, but yesterday they only had Gorilla Cheese NYC and Eddie's Pizza.  Luckily, Gorilla Cheese had a new sandwich I've been wanting to try – a Buffalo Chicken and Mozzarella Grilled Cheese.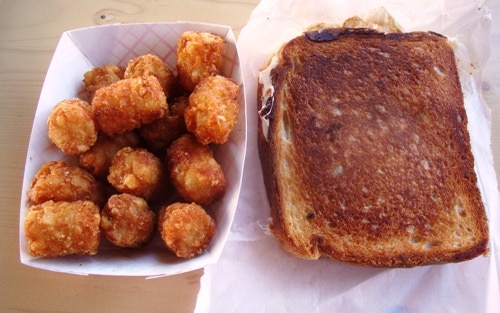 Gorilla Cheese has changed their menu a little from when we had a First Look.  They still have separate sandwiches and side dishes, but now offer a Lunch Special of one specialty sandwich, tater tots and a bottle of water for $10.
With their specialty sandwiches costing from $7.50-$8.50, the Lunch Special is a good deal, so that's what I got.  As I mentioned, my choice was a Buffalo chicken sandwich with mozzarella cheese on French bread.
The sandwich was perfectly grilled, and inside the sandwich were cut up pieces of breaded Buffalo chicken and mozzarella cheese.  The chicken wasn't spicy at first, but the heat built up a bit as I got about halfway through the sandwich.  It wasn't killer hot, but by the end, I had a nice tingle going on.
Mozzarella was a good cheese to balance out the spiciness, and it was also very stretchy on several bites.  This was a tasty sandwich, but I couldn't help imagining what it would taste like with pepper jack cheese.  Instead of the cheese mellowing out the heat, as mozzarella did, pepper jack would increase the heat.  I say bring it on!
Tater tots were a nice side dish, and by getting the Lunch Special, it was a human amount of food to eat for lunch.  When I previously ordered a side dish of tater tots, it was nearly twice as large, which was way too much food with a sandwich.  Reducing the tater tot size to go along with a sandwich made for a more pleasant meal.  Good idea guys!
Gorilla Cheese NYC is one of the better new food trucks in New York this year.  This isn't the healthiest meal around, but it was delicious.
You can follow Gorilla Cheese NYC on twitter here, or just follow our Mobile Munchies twitter feed with over 75 different vendors, including Gorilla Cheese.