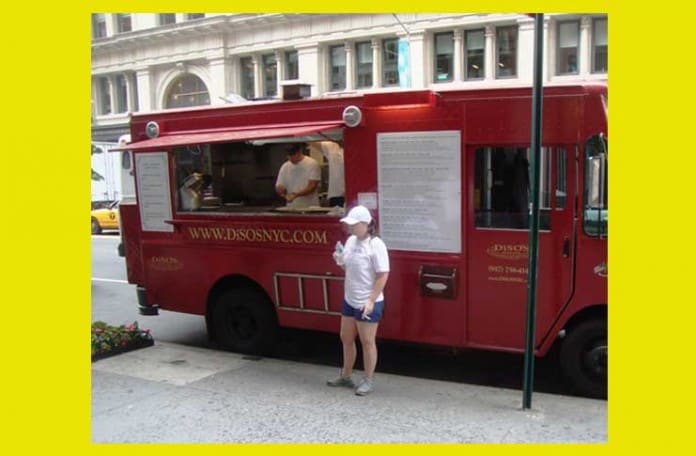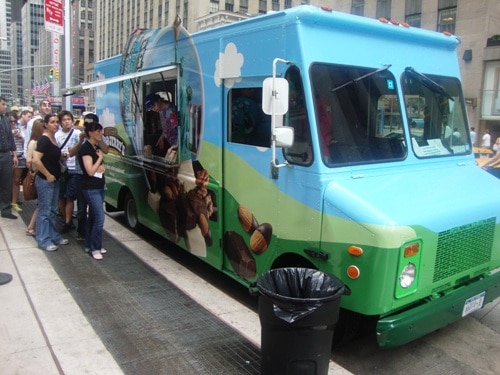 Another nice day outside, if a little warm.  Perfect for enjoying great New York Street Food from the vendors on the right and the trucks below.
With this weather, don't forget about the Ben & Jerry's Truck giving out FREE scoops of ice cream around town.  Follow them on twitter here.
As always, check the Mobile Munchies twitter feed before heading out, in case anyone had to move at the last minute.
BenJerrysTruck
Good morning
#NYC
! We're back on the road today & heading over to Penn Station at 11am – come see us for a free scoop!
ETRAVAGANZA Mexican grilled cheese. With jarritos sodas mexicanas,made with sugar cane http://yfrog.com/h4yycyrj
biandangnyc 39th st btwn 8th and 9th ave., courtesy of @RGA !
EddiesPizzaNY Happy weds: we r parked on 46th btwn 5th and 6th. Cart is at highline on 30th and 10th from 12pm-10pm. Order a white pie w/arugula, tomatoes, parmesan and drizzle of olive oil
CupcakeStop Hi fans!! Truck#1 parked at 23rd btwn 5th&6th aves. Flavors: RedVelvet, Funfetti, Oreo, Fluffernutter, Choc PB, Cannoli, and Smores. YUMS. Truck#2 is parked at Park Ave btwn E26th & E27th St. Flavors: RedVelvet, PB Choc, Cannoli, Funfetti, Oreo, and Smores. Grab one to go =-D
TaimMobile 25 and 5th today ! We have kalamata olive falafel ! It's so good !! Open at 11 sharp