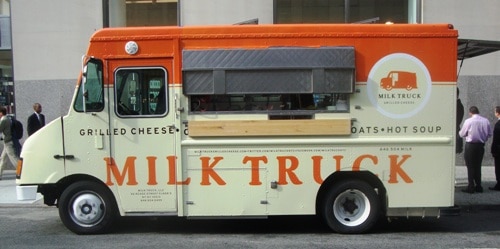 Ever had a Bacon Blue cheddar sandwich? The most recent of the grilled cheese trucks in the city is the Milk Truck.  They started out operating a stand at Brooklyn Flea, and expanded to other food events around the city, including Madison Square Eats, before coming out with their truck last November.
The Milk Truck is known for obsessing over their ingredients, from the thickness of the bread slices to everything in between.  They also use an old fashioned sandwich press, which gives each sandwich thick, distinct ridges.  These are among the most visually appealing grilled cheese sandwiches around.  But what about the taste?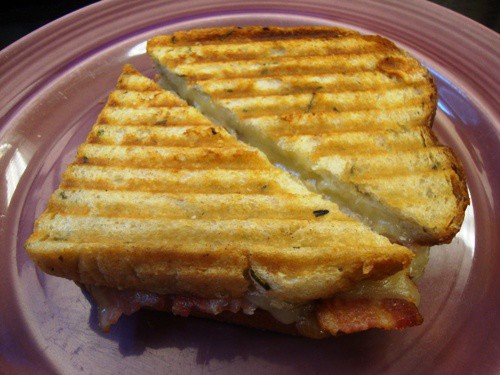 Anything with blue cheese usually moves to the top of my list, but add bacon and there's no question!  I ordered the Bacon Cheddar Blue, which cost $8.50.
In addition to thick-cut bacon, creamy cheddar and pieces of blue cheese, there were a few caramelized onions and pickle slices in the sandwich.
The menu said they were spicy pickles, but I didn't notice anything spicy about them.  The pickles did add a lot of taste to the sandwich though, offsetting the cheeses and bacon nicely.
The crust of the sandwich was crunchy, and the rest of the bread was soft.
One thing with the sandwiches from the Milk Truck is they appear thin when you get them, but don't let that fool you – they are packed with flavor.  Make that several flavors.  This was a delicious sandwich!
In the warmer weather, the Milk Truck has really good milkshakes.  In the winter, they recently started with beef chili, mac & cheese, tomato soup and other seasonally-appropriate dishes.  You can see the daily specials menu here from the day I went.
The Milk Truck spends a lot of time downtown on the corner of Wall & William Streets, but sometimes they are on 23rd & Park, Tribeca or Brooklyn on weekends.  To be sure, check their twitter here or our Mobile Munchies twitter feed.