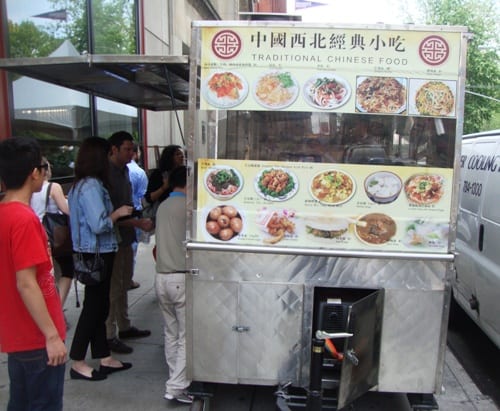 About 2 weeks ago, we were tipped off about a new cart parked near NYU simply called Traditional Chinese Food, which sells cold noodles, asian style of course. The tip was sent to us by Anne Noyes Saini of City Spoonful, who really enjoyed her first visit there.
We stopped by last week and really screwed up our order, so we went back to Anne of City Spoonful and asked if she wanted to write a Guest Post for us.
Anne readily agreed, and even added a 2nd dish, Zhajiang Noodle, to her review of spicy Cold Noodles.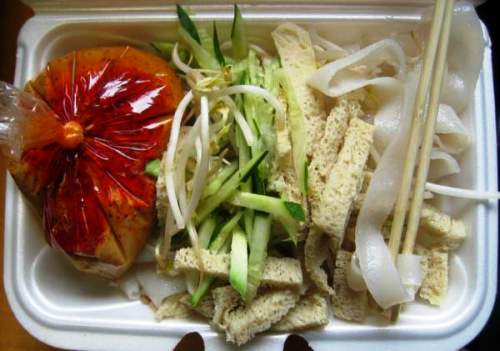 Here is Anne's review of the Traditional Chinese Food cart:
Pointing at the Traditional Chinese Food cart's menu, to ask about some of the dishes, almost landed me orders of everything I pointed at. But I was luckier than Perry—some translation help from a fellow patron with Mandarin skills saved the day, and I walked away with my intended order: the Cold Noodle ($5) and Zhajiang Noodle ($6).
The Cold Noodles dish is actually wide liang pi (cold skin) noodles, which are slippery on one side and cratered on the other (ideal for trapping drops of sauce). The noodles were topped with fresh slivers of cucumber, bean sprouts, and strips of soft, spongy wheat gluten.
The sauce, which comes secured in a plastic baggie, is the key to this dish. It combines ground sesame seeds, ground red chilies, oil, a sharp vinegar, and garlic — delivering spicy, nutty, tangy flavors in each bite. (It's especially good near the end, when the wheat gluten has soaked up much of the sauce.)
Xi'an Famous Foods made this cold noodles dish famous in NYC, and it's a great, refreshing dish for summer. My only complaint: there was no fresh cilantro and the Sichuan peppercorns in the Spicy Noodle dish I tried on my last visit were conspicuously absent.
I also tried the warm Zhajiang Noodle ($6): ground pork, diced green beans, and wheat gluten in a thick, bean paste sauce over handpulled-like noodles (thicker than lo mein), topped with a few slivers of cucumber. The sauce was mildly sweet and salty, very savory, and pleasantly unoily—like home cooking.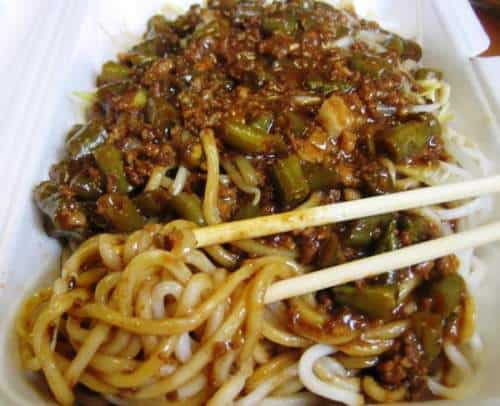 This northern Chinese dish (also popular in Korea, as jajangmyeon) is eaten in various forms throughout China. It's simple, filling comfort food—though perhaps not ideal on a muggy spring day.
The ingredients in both dishes were fresh, the flavors full-throttle, and the portions huge. (What I ordered was easily enough food for four of me—indeed, they put four sets of chopsticks in the bag!)
The Traditional Chinese Food cart started operating at NYU in mid-May; a second cart also operates at Columbia University.
Many of the dishes on their menu are from northwestern China. The liang pi Cold Noodles, chili- and cumin-rubbed Fried Chicken, lamb and pork "burgers," and skewers of beef, lamb, and chicken are prime examples.
But the people manning the cart told me they come from Luoyang in Henan province, a city in central China (once the easternmost point on the Silk Road that connected ancient China with Central Asia, the Middle East, and Europe). Not surprisingly, you can spot elements of Henan cuisine on the menu: the soups (especially one that employs thin, vermicelli noodles), Steam Dumplings, and several dishes that incorporate tomato cooked with eggs.
If two of my favorite restaurants, Uncle Zhou (food from Henan/central China) and Xi'an Famous Foods (food from northwestern China) collaborated on a food cart—this would be it.
Traditional Chinese Food cart, 4th Street @ University Place, 10am – 8pm, Mon-Sun. 
Nice job Anne. We learned a lot of new things about regional Chinese cuisines. You can write for NYSF any time.
And make sure you all check out the City Spoonful website.