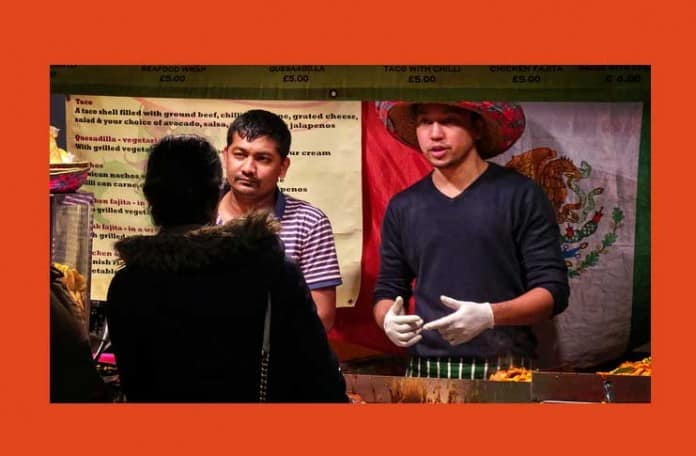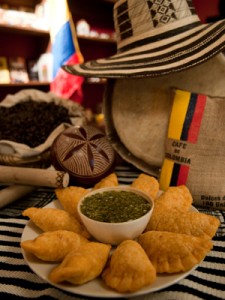 Leo Suárez believes that the empanada will be the next taco.  "The empanada is the emblematic street food of Latin America," he says of the traditional stuffed turnover. He thinks this tasty fritter has the potential to be as popular as Mexican cuisine.
Owner of the two Las Tablas establishments in Chicago, Suárez opened Macondo Colombian Coffee & Empanadas shop across the street from the popular Lincoln Avenue steakhouse location in October.  Enter the Macondo coffee shop and you experience the flavor of Barranquilla, where Suárez was born.  Order a tangy cup of Juan Valdez CaféReale direct from the Federación Nacional de Cafeteros de Colombia. Macondo is the first spot in Chicago to serve the farmer-owned brand that supports social programs back in Colombia.
If you're hungry for something a bit more hearty than the pastries prepared fresh every morning by Macondo's Colombian baker, José Chavez, then try the almuerzo corriente, a commonplace Colombian meal, with pinchos (skewers) of beef or chicken, rice and beans, and platano maduro (ripe plantains). But don't forget the empanadas! Cooked in the style of Tolima province in central Colombia, these corn flour-shelled goodies are fried in non-trans fat vegetable oil. Macondo says it's "the only empanada-focused business in Chicago" that offers completely gluten-free fritters.
In Tolima, empanadas are somewhat smaller than other kinds and come two per order. The Tradicional pays homage to the standard beef and potato empanada, but there are many variations, such as mozzarella cheese and spicy chipotle sauce, or mozzarella with guava, or chicken, all with a side of savory ají hot sauce. Suárez is ready to roll out new empanada fillings, and he will solicit customer requests for their favorite ingredients.
"The empanadas that we sell here are from the exact same recipe that my grandmother fed her family on," he says. "She would literally wake up before dawn to make about 500 empanadas, and my father, when he was a kid, would take them to this truck stop on the highway along the path to Bogotá to sell them, and that's how they lived." [Cafe Media]
In New York, Ruben's Empanadas has several locations downtown, but they get mixed reviews.  They had a location in midtown a number of years ago which I tried, and it was decent, but that location closed fairly quickly.
In L.A I've enjoyed Empanadas Place on Sawtelle just off Venice Blvd.  I believe they opened another location in West Hollywood, but I haven't been there yet.
Do you think empanadas can become the next taco?  They certainly are neater to eat than tacos, but part of the appeal of street food can be the messiness.  Where are other good places for empanadas in New York or elsewhere?  Please leave your thoughts in the comments section.
We make empanadas at home on a fairly regular basis.  Look for our recipe in two days, as we will  make empanadas this Friday's Recipe.