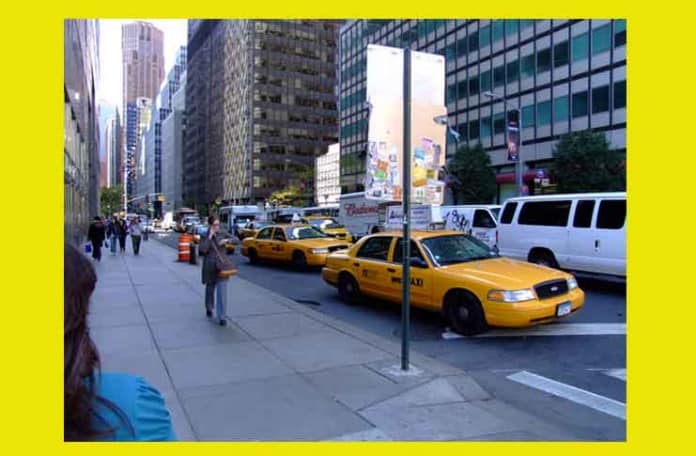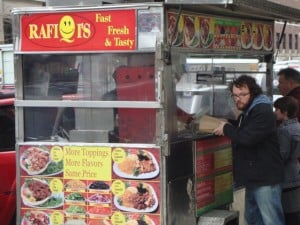 One of the stalwarts of the New York Street Food scene is Rafiqi's, who have several locations around Manhattan.  They have one on Park Ave and 52nd St, one on 32nd and Park, one on 47th and Madison, and the one I went to on 5th Ave and 13th St.  I was told Rafiqi means "friend", but forgot to ask what language that's in.
I told the guy that I hadn't been there before, and asked what he recommended.  Instead of suggesting something, he put a piece of chicken and a piece of gyro meat on a fork and handed them to me to taste.  The gyro meat was too salty for me, but the chicken was really good, if a little salty also.
I could see the chicken breasts with some sort of rub on them ready to go on the grill, and the cooked chicken on the grill was getting chopped up as I decided what to order.  Seeing the freshness of the chicken, I went for the classic chicken over rice for Today's Lunch.  An excellent deal at $4.75.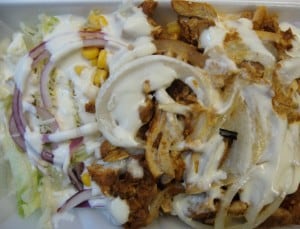 The rice was Spanish-style with a few carrots and peas. The chicken was put over the rice, and he asked if I wanted grilled onions on top, which was a definite yes. I then asked for white sauce and hot sauce to complete the classic New York Street Food lunch.
Next up was the salad, which is usually an afterthought at most of these carts, but Rafiqi's had a small salad bar inside the cart with lettuce, tomato, black olives, corn, black beans, red onion, and shredded cheese.  This was the first salad bar I've seen on a street cart, so I selected my ingredients and he put white sauce on the salad as dressing.
When I opened the lunch back at my office, the smell was amazing, and the chicken, onions, white sauce and hot sauce was a great combination. The chicken was all chopped breasts, and the rub on the chicken added a dimension not usually found in street meat.  I really liked the flavor added by the rub. The hot sauce was actually hot, and the white sauce was somewhat reminiscent of the white sauce at Gyro II, but without the sweet paprika topping.
A good salad was a nice way to finish this meal. Fresh lettuce, corn, red onion, shredded cheese and the white sauce was certainly one of the better side dishes I've had from a cart.
Today's Lunch was a 9 out of 10.  The chopped chicken breast was very tasty with the rub on it, but still a tiny bit salty for my taste.  The white sauce, hot sauce and grilled onions were really good, and the salad bar was a definite winner, as was Rafiqi's overall.