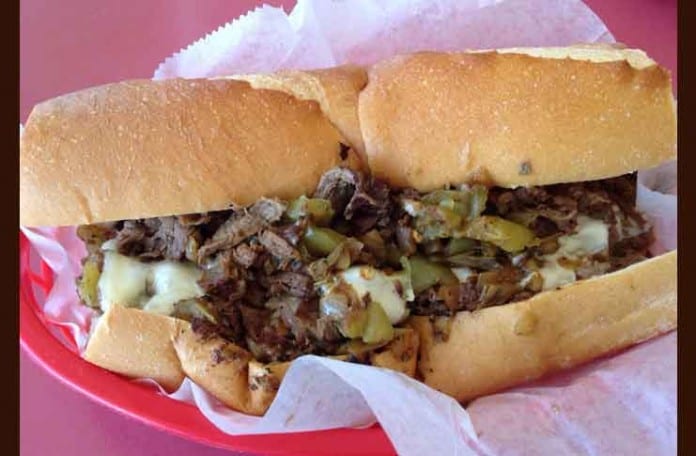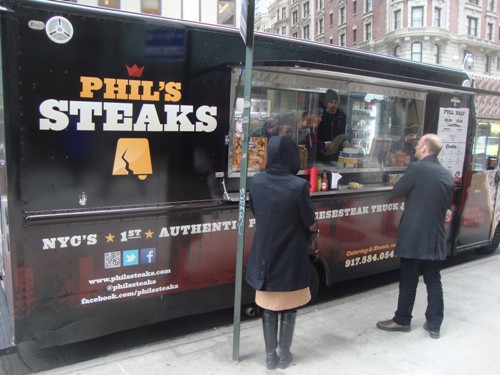 A few weeks ago, we had a NYSF First Look at Phil's Steaks on their first day open in Manhattan.  Now it's 3 weeks later – time to check in again, and try something different on the menu.  Luckily they were parked 2 blocks from my office – on Broadway & 55th St – where they hope to be every Wednesday.
The first time there, we had to try a classic Philly cheesesteak, which was delicious!  We also saw a chicken cheesesteak on the menu that looked good and wanted to try on our next visit…but
Now that Phil's Steaks has been in business 3 weeks and had a chance to see what customers like, they found out something interesting – hardly anybody ordered the chicken cheesesteak.  They took it off the menu :(.
Oh well.  I was already at the truck, so I ordered a cheesesteak wit' onions, mushrooms and wiz.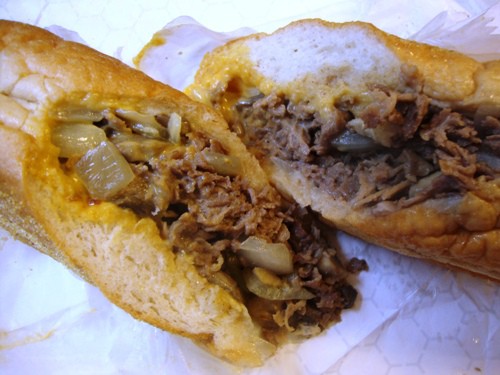 A whole sandwich is 10″ long ($9) or you can get half a sandwich for $5.  The whole sandwich has half a pound of meat (!), so if your appetite is not too large, a half is a decent amount of food.
They also have chips and cupcakes from Cupcake Stop in various combos, so you can get half a sandwich, a drink and a cupcake for lunch.  Personally, I would rather have a whole cheesesteak than half a cheesesteak and a cupcake, but I'm a hard-core carnivore.
The sandwich was great!  Tons of high-quality shaved beef with absolutely no fat. There were also plenty of mushrooms and onions, which were soft, but still had some body to them.
The cheese options are American, provolone and cheez wiz.  Normally I don't eat cheez wiz at home (my wife would never let it into the house), but so many people swear by it on a Philly cheesesteak that I had to try it.  It was cheesy and  there was some wiz in every bite, but I think I'll stick with American or provolone in the future.  (I know I'm gonna hear about this from some people!)
The bread was soft and steamed, but this sandwich is made for eating right away.  I only walked 2 blocks before eating lunch, and the bread was already getting a little mushy on the spine.  A bit of cheesesteak and toppings fell out, but I was at a desk, so my shirt was saved.
I was a little disappointed that Phil's Steaks decided to take chicken off the menu, but I also found out they will be 2 blocks from my office every Wednesday, by 55th & Broadway, cops willing.  That turned my frown upside down 🙂  (Yes, you can kill me for saying that, and double for the icons.)
Find Phil's Steaks on twitter here or on our Mobile Munchies twitter feed with lots of other trucks.