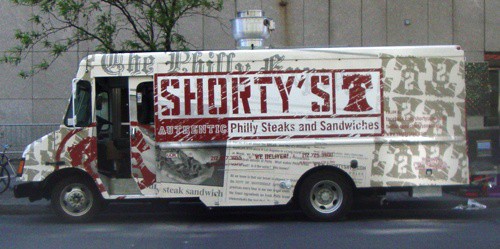 Feel like devouring a Roast Pork Sandwich? A couple of months ago we told you about Shorty's, a Philly-centric sports bar with two locations here in NYC that was opening a food truck.  This weekend was their soft opening, and they hope to be on the street regularly in about a week.
We had a chance to stop by the Union Square area on Saturday, their first day out, and as always with a new truck, we asked for their recommendation.  The owner, Evan Stein, suggested a Roast Pork Sandwich, which has homemade broccoli rabe and sharp provolone and cost $11.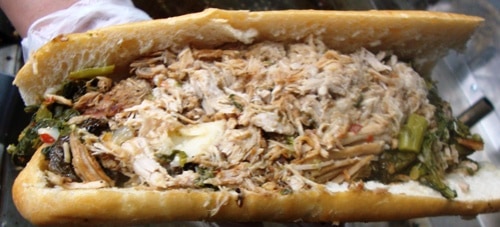 Before getting my Roast Pork Sandwich, Evan showed me around the truck.   He was especially proud of the bread from Le Bus that's brought up from Philly and baked fresh right there on the truck.  Yes, there's a bread oven on board!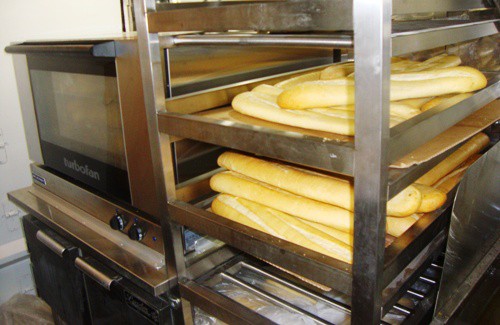 The menu has sandwiches with beef and chicken cheesesteaks, roast pork, and veggie combos.  Evan told me they eventually want to do breakfast with egg and broccoli rabe sandwiches and things like that.
Getting to my Roast Pork Sandwich lunch, the first thing I noticed when unwrapping the sandwich was the smell of sharp provolone cheese.  That was a good sign.
Taking a bite, the shredded roast pork, broccoli rabe and sharp provolone melded together into a perfect union inside the roll.  The broccoli rabe added a touch of bitter greens flavor to the mix, and sharp provolone was the way to go.  Regular provolone cheese would have been lost at sea.
Another important part of this sandwich was the au jus (roast pork juice), which added a depth of flavor.  You can see on the left side of the photo below where the au jus soaked into the hero bread.  Mmm, that was good!
Next time I'll probably add Italian hot peppers to my sandwich too.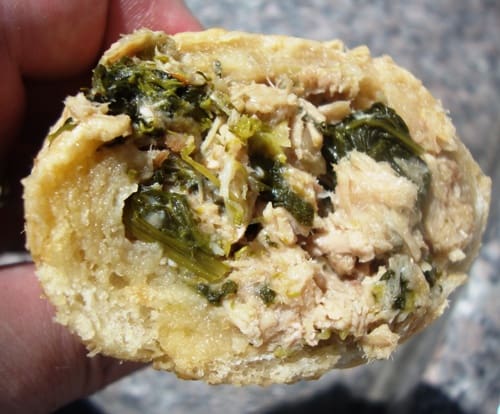 I only walked 3 blocks before eating this Roast Pork Sandwich, and the bread was already getting a bit soft from all the stuff inside.  I'm not sure how well this sandwich would travel, but it was damn good within 5 minutes of ordering.
The sandwiches are in the $9-11 range, which is towards the high side for a food truck, but the sandwiches are large, the food is fresh, and I was very satisfied by the end of the meal.
Two people with smaller appetites than mine (meaning normal appetites) could probably split one of these sandwiches and an order of fries and be very happy afterwards.
You can follow Shorty's on twitter here or on our Mobile Munchies twitter feed.  As I said, they may not be on the street regularly for about a week, but we'll let you know when that happens.  You'll want to try them out for yourselves.
As for me, I want to try a regular cheesesteak, chicken cheesesteak, and a buffalo chicken sandwich.  When they do egg sandwiches, count me in for that as well.
Guess I'll be seeing a lot of Shorty's in the near future.