Bustling sidewalks, honking taxis, and traffic that persists. NYC is truly the city that never ever sleeps! The people are always in a rush and chaos seems to reign as people whizz by in their efforts to get to work, school, or the subway in time. Everyone has either a coffee or a bagel in their hand and the smells of fresh bread and brewed coffee waft into the street. 
New York City's food culture consists of many different influences. From the Jewish deli to the Taco Stand, to the real Italian food restaurant, you can find any cuisine in an instant. If you're looking to capitalize on the street food business, you will be met with the tough competition but also inquisitive diners and foodies. Running a food truck business in NYC is quite a challenge – so read on…
5 Tips on Running a Food Truck Business in NYC:
1. Play on Your Strengths
NYC has always been a hotspot for entrepreneurs, which is great news if you are an aspiring business person. Play on your heritage, business offering, or secret recipe that sets you apart from every other food truck in the Big Apple. Your business will need a great differentiator from your competition if you want to run a successful food truck business.
2. Do Thorough Research
Diving straight into running a food business without proper research and market analysis may be a costly mistake. If you are planning on opening a hot dog truck, spend a day sampling the best hot dogs in the city. See what makes the competition great and how you can improve on it. In order to be successful, you will need a proper strategy. 
Your strategy should include who your target market will be, how you will appeal to them on a busy and noisy street, and how you will package and display your 'product' from your food truck.
The operational requirements will need to be carefully planned too. Firstly, you will require a Mobile Food Vendor License in order to operate on the streets of NYC and you will be placed on a waiting list as the number of vendors allowed to operate is limited by strict laws. 
The sooner you apply for this license, the better. While you await this license, you can do all the business preparation and branding so that you are set to start trading on receiving your permit.
3. Brand your Food Truck
Getting your brand noticed is a big drawcard if you want to be successful in the food truck space. Passersby must be able to identify your food truck, what you sell, and how much you sell your food for at a glance.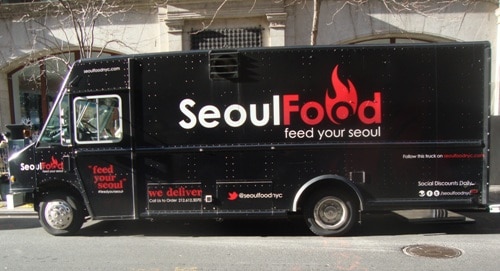 The use of eye-catching color and graphics will allow you to be highly visible in a busy street filled with advertisements. It can attract customers from a distance away. Keep your branding chic, neat, and legible as customers will avoid trucks they cannot easily identify. This is probably the most important tip of running a food truck business in NYC, and anywhere else for that matter.
4. Shop Local
Start building relationships with local vendors in NYC. You will need to source your food and packaging at some point, so start working on those relationships now. Supporting local stores and vendors is a great way to save on costs too. 
Often you can negotiate prices when you have built up a good relationship with your local grocer, deli, or butcher. It also helps to get a better lay of the land by talking to these vendors. They often have great insight into the food truck business.
5. Put Cleanliness at the Forefront 
In today's age of COVID-19 (and future viruses that will probably follow), cleanliness and hygiene are key. Every business will need to master these in order to survive. You'll want to ensure your truck is in good working order and clean at all times. Remember, no one on the streets of NYC will buy food from a dirty truck.
By following these easy tips, you could be running a successful food truck business in NYC soon. However, start the preparation now so that you can hit the ground running when you're ready to.
When the day comes and you do own a successful food truck operating on the streets of New York – you can reach even higher. Food truck marketing is a big trend these days, so you can offer your truck in promotional campaigns of big brands. Good luck!