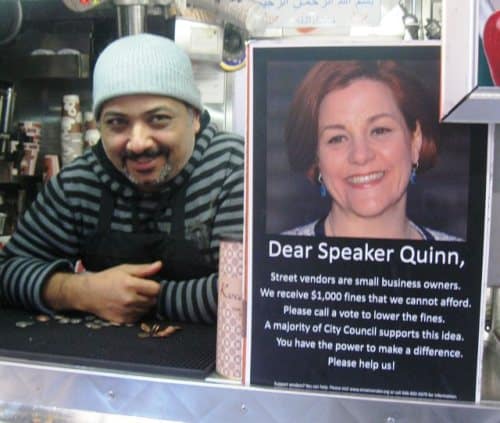 For years, the NY Street Vendor Project (SVP) has been campaigning to lower the $1,000 fines their members receive for small infractions, such as parking too close to the curb or having a permit in their pocket instead of being visible.
In December, the SVP obtained $228,000 in cash refunds from NYC for hundreds of vendors who were overcharged on the tickets they received.
Now, it looks like the campaign to lower NY street vendor fines may be making headway…unless Mayor Bloomberg gets in the way.
Last week, presumed mayoral candidate and current NYC Council Speaker Christine Quinn, said the bills to lower NY street vendor fines will receive a vote next Wednesday at City Hall. It is expected to pass handily.
However, a potential wrench may be thrown into the works.
At the mayoral press conference last week introducing the eco-friendly pizza truck, Mayor Bloomberg was asked about the push to lower vendor fines, and he replied: "Reducing the fines (on vendors) is one of the stupidest things I've heard." Bloomie says he'll veto the Quinn bill, and it is unclear whether there are enough votes to override his veto.
Should be an interesting week at City Hall.