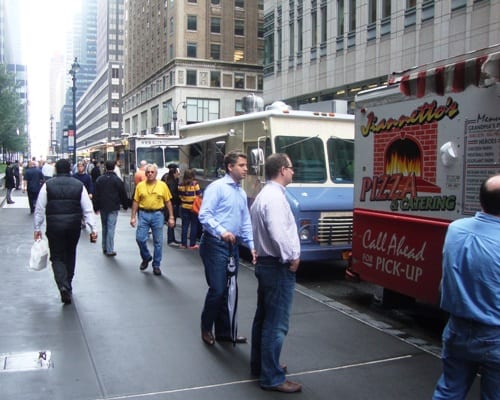 One of the problems with johnny-come-latelys is they mess things up for the originals. It just happened again with food trucks on 47th St between Park & Madison Aves.
There used to be 2-3 food trucks on the block, but when nobody hassled them, more and more came to the party. Lately there have been 6-7 food trucks parked on the block, with 4-6 more on Park Ave from 46-48th Sts.
On Friday the hammer came down! We stopped by around 1pm and spoke with a very nice policeman who gave us the lowdown.
The policeman said someone on 47th St between Park & Madison Aves. is very well connected politically, and reached out directly to the Mayor's Office. The Mayor's Office has now deemed that block off limits to food trucks PERMANENTLY!
He wouldn't name names, but our guess is JP Morgan Chase.  Both the investment arm (JP Morgan) and the related bank (Chase) have prominent offices on that block.
We asked if Park Ave was off limits, and the cop said he only had orders to clear 47th St between Park & Madison Aves. "If it's not on this block, I don't care" was his response.
Walking around the area, we saw several vendors who were not told to move. The new Green Radish Truck was on 47th St, but just west of Madison. Bob & Jo were on 46th St just off Vanderbilt, and Hibachi Heaven was on Vanderbilt btw 46-47 St.
Unfortunately, the Mayor's Office, who were so grateful to food trucks after Hurricane Sandy, is bowing again to corporate interests. There needs to be some sort of legal solution for food trucks to become a stable business in this city.
Until then, the game of Whack-A-Mole continues.