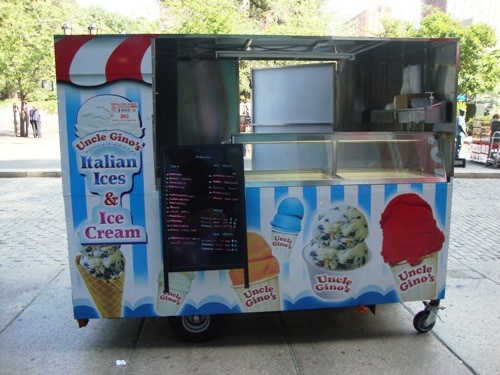 The last few times we've been on Union Square West, there's been an Italian ices and ice cream cart called Uncle Gino's. The cart doesn't look like anything special, but it's been so hot and muggy recently, we grabbed a sample to try on the way to a meeting.
The menu does have some less common flavors, such as sour apple or mango ices, and cheesecake ice cream. Italian ices are 2 flavors for $3, so we selected black cherry and watermelon.
We figured at worst this would cool us down, and at best, we would have a new discovery to tell you about. Turns out it was a little of each.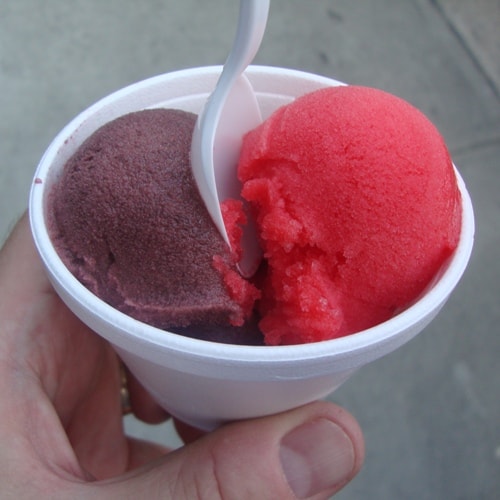 We started with the watermelon ices. They were decent, but nothing special. The watermelon taste was there, but otherwise nothing was distinctive about.
The black cherry on the other hand was a pleasant surprise. The ices were sweet and syrupy, and as we got deeper into it, there were large pieces of actual black cherries.
The black cherry ices were sweet, syrupy, chewy and fruity, hitting all the bases except tart.
Uncle Gino's Italian Ices & Ice Cream parks on Union Square West between 14th & 15th St.
Let us know which other flavors we should try next time.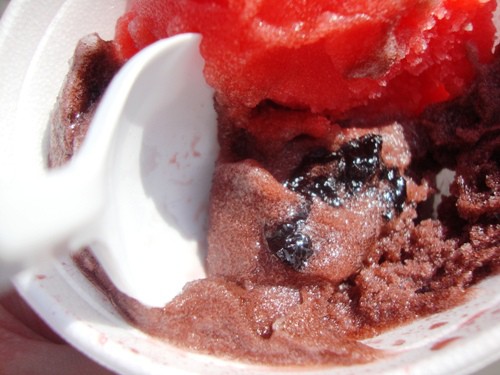 If you have ever thought about starting your own ice cream truck or ice cream cart, you can find ice cream trucks for sale at FoodTrucksandMore.com.