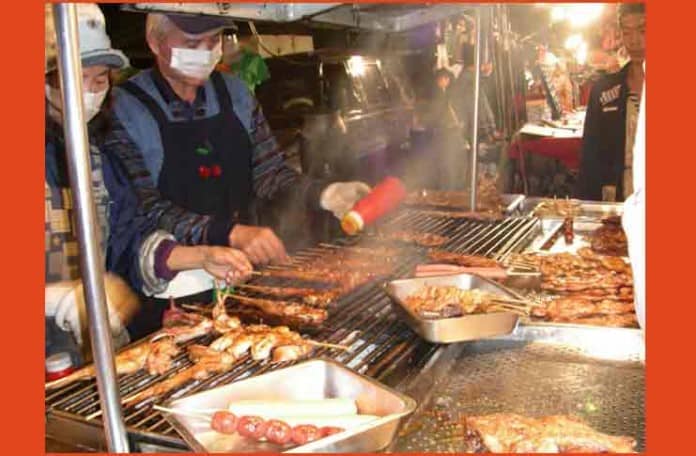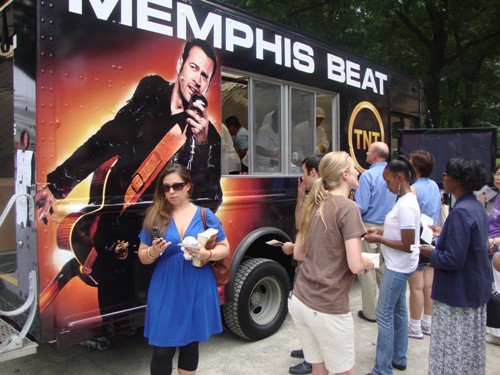 As we mentioned this morning, free Virgil's BBQ is being given away today from 11am-3pm at Columbus Circle.  Since it's only 2 blocks from my office, I checked it out – fully expecting a mob scene.  What I found at 12:45 was about a 10 minute wait for a free pulled pork sandwich with cole slaw on top.  There were 2 lines, so it moved pretty quick.
There was also a crackerjack blues band playing right by the truck, so there was good music to listen to while waiting on line – and afterwards if you wanted to hang around.
Click through to find out if Today's Lunch was worth the money.
Upon opening the tin foil, the sandwich was significantly larger than I expected.  At last year's Vendy Awards, Picknick Smoked BBQ gave out their food, and while it was tasty, the portions were pretty small.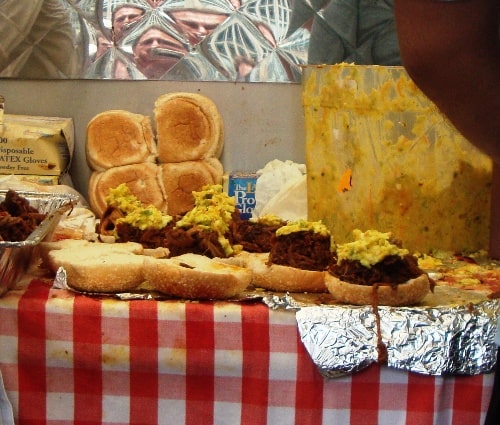 Not so with Virgil's pulled pork sandwiches.  I realize the bill is being paid by TNT, a Time-Warner company, but this was a full-sized sandwich with cole slaw.
The cole slaw on my sandwich was not evenly distributed, so the pork and roll without cole slaw was a little dry.  If this was in the restaurant, I would have added bbq sauce to the sandwich, but that wasn't possible today.  The bites with cole slaw were much less dry – plus they added a vinegary zing.  If your cole slaw is all off to one side, I would recommend re-distributing the cole slaw to the rest of the sandwich.  It really helped.
Was Today's Lunch worth the money?  Definitely!  If bbq sauce was available to add to the sandwich, it would even have been worth $5 or $6.  There's not much BBQ around NYC, and I like to take advantage of whatever there is.  The truck will be there until 3pm, so head over there if you can.
On the NYSF scale, Virgil's pulled pork sandwich was a 7.5, but you have to add points for value, so it ends up with an 8.