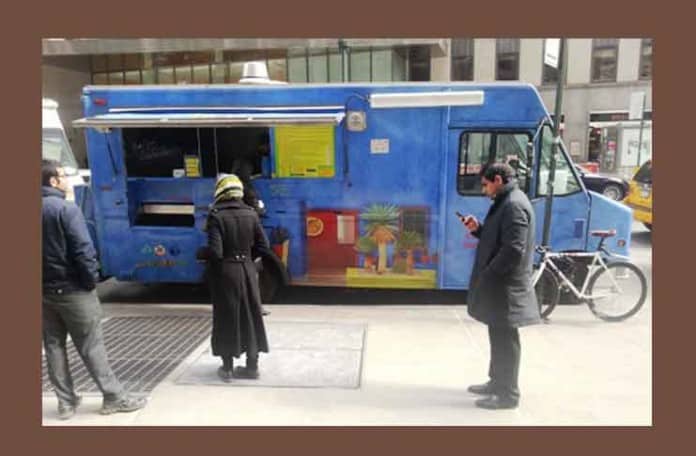 It's another sunny, beautiful day in New York.  Perfect for enjoying some great street food outside from the vendors on the right and the trucks below.
As always, make sure to check the pink Mobile Munchies twitter feed on our homepage to make sure your favorite food truck did not have to move at the last minute because of police activity, a movie shoot, or some other reason.
waffletruck – Short visit to 52nd btw 3rd & Lex till 12pm. In pm we're doing some corporate events. Free dinges for sharing your fave ice cream flavor.
BistroTruck – We are giving 5 tixs to 5 winners: http://www.nycfoodfilmfestival.com/FoodTruck.html. The Event is sold out but we can get you in. The rules are simple….. Stay tooned. Special of the day: Fish tacos. Soup white bean. Dessert rasberry pana cotta
schnitzeltruck – Good morning 46th between 5th & 6th! What's schnitzelating? Veal schnitz that's what. We're coming atcha @ 11:30.. Get ur schnitz on 2day:)
fritesnmeats – Give us a call and avoid the line. Taking preorders till 12. 917.292.9226. Were on 48th & 6th
EddiesPizzaNY – water and broad! come get some pizza today (tuesday). Try the eggplant ricotta pie…yummy! call ahead your order. 917.439.7522 http://fb.me/wn9EcdJf
fritesnmeats – Howdy Midtown!! 48th & 6th today. Grab the El Cubano-Angus Patty, Ham, Gruyere, Pickles & Sassy Sauce! Also Grassfed Angus Skirt Steak S'wch
StreetSweets – St. Sweets is @ Hanover Square & Water St until 4:30p. Stop by & check us out, there r so many goodies to chose from at our mobile bake shop
nyccravings – 24th btw park/madison! Tweet/FB full name&email 2 b randomly selected 4 sat6/26 sold out event in dumbo! http://fb.me/ttjQik1d
CupcakeStop – Our Original truck is on 5th and 23rd today and our shoppe inside the Limelight Marketplace on 6th and 20th! Flavors to come
RickshawTruck – How awesome is the summer watermelon-ade? come up and ask for as sample of it today! Tues Dumpling Eaters: we are at midtown east 52nd + Lex as well as far midtown west at 11av + 46st ask for a sip of our watermelon-ade! 11-3
3 new tweets. CalexicoCart – Both carts are on the street. Today's special is ground pork with pablano peppers, shaved almonds & raisins. Topped with sour cream. Enjoy
Hoboken/Jersey City
TheTacoTruck – Come out for a Taco Tuesday deal – 12:00-2:30 in Jersey City, Hudson & York St. http://fb.me/Bp3yqRtN
laspicetruck – Beautiful day alongside the Hudson, come have your lunch today with LST. The little white truck is taking off the… http://fb.me/BtQmBoXt
TheKrave – 6/22 – Dinner at Columbus and Marin 5:30 – 9:30 http://tumblr.com/xl1bzt2vy