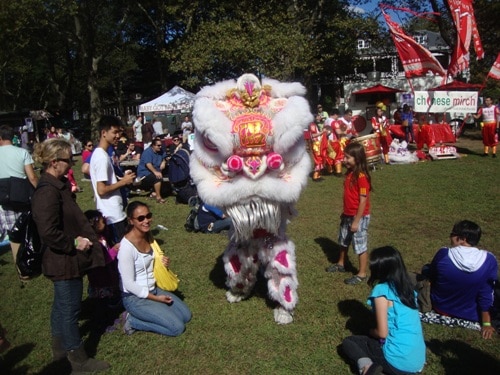 The Vendy Awards are always one of our favorite days of the year. We've been attending since 2009, and the vendors never fail to impress.
Last year, Chinese Mirch brought dragons and drummers to the event. Who knows what's gonna happen next month, at the 2013 Vendy Awards?
One thing we know is who will be deciding the winners of the People's Taste Award, Rookie of the Year, Best Dessert, Best Market Vendor and Best of NJ. All of these categories are voted on by the Vendy Award attendees. Buy a ticket here and you will help decide the winners of every category except the Vendy Cup.
As for the winner of the Vendy Cup, that will be decided by a panel of judges who have just been announced!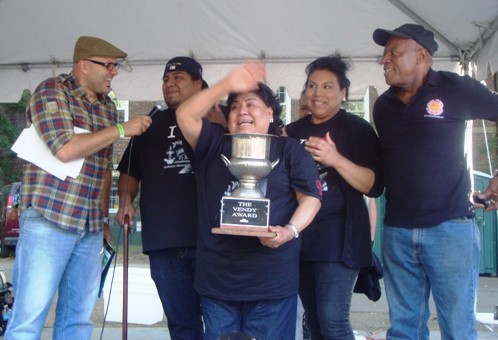 This year's Vendy Cup finalists will be judged by a panel of six celebrity judges and one citizen judge.
Elettra Wiedemann: Model and culinary impresario
Francis Lam: Judge on Top Chef Masters and Editor-at-Large at Clarkson Potter
Garrett Oliver: Brewmaster at the Brooklyn Brewery, Author of The Brewmaster's Table, Editor-in-Chief of the Oxford Companion to Beer
Justin Warner: Host of Food Network's Rebel Eats, winner of Food Network Star Season 8, co-chef and owner of Bed-Stuy's Do or Dine
Lauren Purcell: Editor-in-Chief of Every Day with Rachael Ray
Pat LaFrieda: Chief Executive Officer, Pat LaFrieda Meat Purveyors
Rachael Fauss: Policy & Research Manager for Citizens Union
For more info, here are the judges' bios:
Elettra Wiedemann has modeled with some of the world's best photographers for magazines like American Vogue, Chinese Vogue, Teen Vogue, Italian GQ, Harper's,InStyle, Glamour, Ten, Harper's Bazaar, French Elle, Grazia, Italian Elle, Another Magazine, Tatler, and Muse. Elettra is fluent in English, Italian, and French and her contagious personality has made her hugely popular with the renowed photographers she continues to work with, including a series of portraits shot by Karl Lagerfeld which were exhibited at the Crillion during Paris Fashion Week.
Francis Lam is Editor-at-Large at Clarkson Potter and a judge on Top Chef Masters. In past lives, he was the features editor of Gilt Taste, a senior writer at Salon.com, a contributing editor at Gourmet, and his work has appeared in the 2006-2012 editions of Best Food Writing. He believes that, in professional football, that would count as a dynasty; in ancient China, not so much. He tweets @francis_lam
Garrett Oliver is the brewmaster of The Brooklyn Brewery, editor-in-chief of The Oxford Companion to Beer, author of The Brewmaster's Table, and one of the foremost authorities in the world on the subject of beer. Garrett has hosted more than 800 beer tastings, dinners, and cooking demonstrations in fourteen countries, writes regularly for beer and food-related periodicals, and is internationally recognized as an expert on traditional beer styles and their affinity with good food.
Justin Warner is the winner of Season 8 of Food Network Star, the host of Food Network special Rebel Eats, and co-chef/owner of Do or Dine, a Michelin Bib Gourmand restaurant in Bed-Stuy, Brooklyn.  Justin has been working in restaurants since the age of 15 and strives to create food that matches his personality; edgy, witty and intense.
Lauren Purcell became the Editor-in-Chief of Every Day with Rachael Ray magazine in January 2012. Purcell is responsible for overseeing editorial content for the magazine, published 10 times a year and reaching 6.1 million readers, as well as the robust RachaelRaymag.com website.
Pat LaFrieda represents the third generation of meat purveyors and butchers in the family owned LaFrieda business, which began over 90 years ago in New York City's meatpacking district. Today, LaFrieda Meats is NYC's go-to meat supplier found on menus in and around NYC and a favorite of the world's top chefs.  He has a book coming out in Spring 2014.
Rachael Fauss has lived in New York City for six years, first in Central Harlem and now in Kensington, Brooklyn. As the Policy and Research Manager for Citizens Union, she works to improve the democratic process in New York City and State government, authoring research reports and assisting with its advocacy efforts to hold government accountable. Rachael often explores New York's food scene by bike, making stops at the Red Hook Ballfields and other street vendors to fuel her trips.