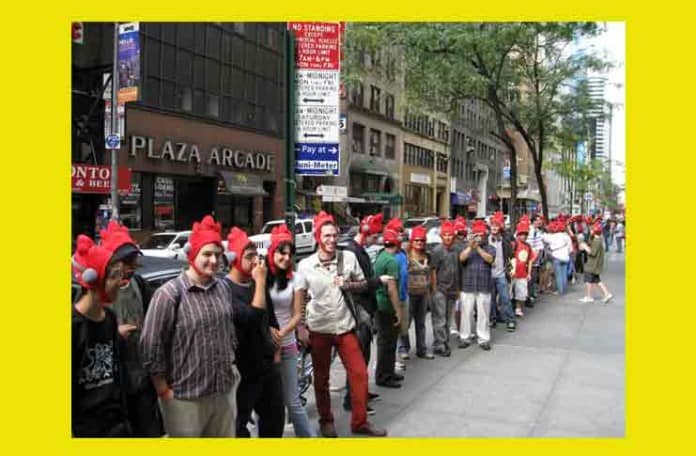 As we mentioned yesterday, Solber Pupusas won the 2011 Vendy Cup on Saturday, in their second bite at the apple.  Rafael was also a Vendy Cup Finalist in 2008 under the name Soler Dominican.
Check out the amazing plate of food below: a pupusa (middle left), sweet plantains (top) and a tamale (lower right) covered by homemade pickled onions, jalapenos and cabbage, topped with their special sauce and crema.  The pupusa had your choice of chicken or pork yesterday, and their regular menu has even more choices of fillings.  You have to cut down the options to serve this many people, but that didn't seem to hinder Solber Pupusas.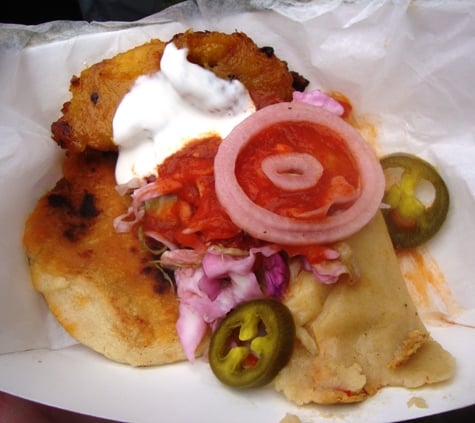 There were plenty of other tasty and interesting dishes in the Vendy Cup category, including the People's Choice Winner, Souvlaki GR.  Click through for details of what the other finalists served.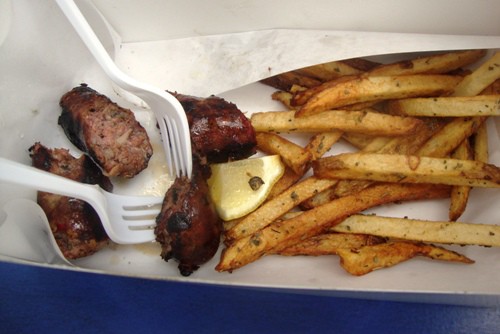 Last year's Rookie of the Year, Souvlaki GR, won the People's Choice Award, meaning they received the most votes from everyone who attended and voted in this category.  They brought their A-game with pork, chicken and beef souvlaki, as well as a new item, grilled sausages (above).  Pavlos told us the sausages would be a permanent addition to their menu.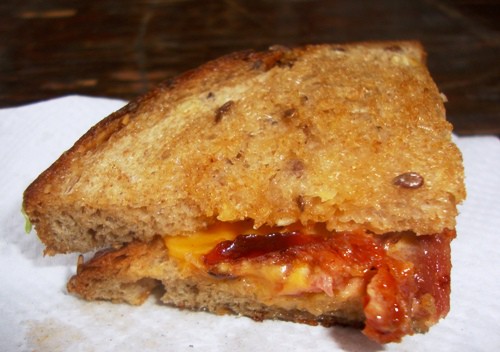 Arturo Macedo from Eggstravaganza cooked up a delicious Mexican grilled cheese with homemade chorizo on 7 grain bread (above).  He also served a vegetarian wrap that I heard great things about, but didn't get a chance to try.  He also had face painting for kids right next to his cart.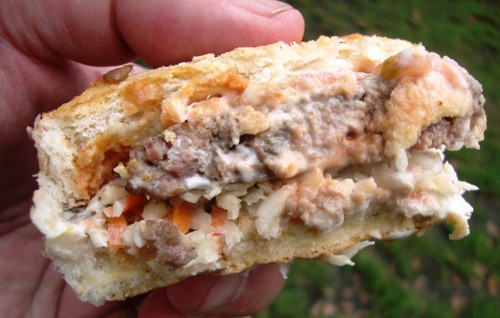 Chimichury El Malecon had chimichurys (above), which were Dominican burgers topped with carrots, tomatoes, cabbage and onions.  The chimichurys had mayo, ketchup and their special "pink sauce", which included Maker's Mark, one of this year's Vendy Award sponsors.
Sam's Falafel put together a wonderful plate of falalfel, tahini, hummus, babaganouj, eggplant and crispy pita.  You can see why they have been a fixture downtown in the Financial District for many years.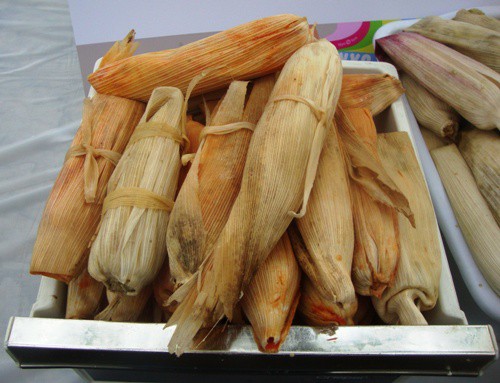 I had really bad luck with Mexican Tamales Guadalupe, with them being the only vendor I did not get to try. Every time I went over there, Guadalupe was in the process of cooking the tamales (pictured above).  Guess I'll have to head out to Brooklyn to try her tamales.
The 7th Vendy Cup finalist, Trini-Paki Boys, did not make it to the Vendys.  One of the announcers mentioned that the owner, Fatima, was unable to attend due to health issues. If you want to try some truly delicious street food, head over to their cart on 43rd St & 6th Ave for great chicken over rice with an amazing tamarind sauce, jerk chicken or Trinidadian doubles.
All of the vendors put out excellent dishes, and any one of them would have been a good choice for the Vendy Cup – but in the end the judges selected Solber Pupusas for the Vendy Cup and the people voted for Souvlaki GR for the People's Choice Award.  These were two of the best vendors in New York, if not probably the country.
Check back over the next few days for details on the Rookie of the Year, Best Dessert and Best of NJ categories.